What's a Starter Set? Should I Get One?
If you're new to disc golf, it's easy to get dazed and confused about all the different types of discs out there, wondering which ones you should buy. There's so many different brands and each brand has a huge amount of discs for you to choose from. Not to mention all the differing opinions on the internet.
Where do you start? Which discs should you buy first? This is where starter sets come in. They take the guessing game out of the equation for newer players who don't know very much about disc golf and all the different types of discs out there. Eventually, you'll try new discs and isolate your favorites from all the thousands of options out there, but in the beginning, I suggest that you try one of the starter packs listed below.
Are Starter Sets Only for Beginners?
Some are and some aren't. Many starter sets offer a great set of discs for beginners to jump right into the game with everything they need to succeed and grow. With that said, there are a few starter sets out there that offer discs that are useful to more seasoned players.
For instance, #4 on this list is a set of 3 amazing discs in Innova's champion plastic, which is really nice, high quality material. And the discs themselves are much better for players who already know what they're doing. #1 on this list also offers a couple of discs that aren't as good for beginners, but great for seasoned players. Also, the set of floating discs I have in one of the "honorable mention" slots below is a great set for seasoned players to keep with them at all times.
You Don't Need a Starter Set, But…..
Of course, you don't need to buy a starter set to have a great starting set of discs. I have an entire page dedicated to my recommended discs with selections for my top 3. You could just buy those three discs and have an awesome starter set right there that you made yourself.
The discs listed on that page are for players who intend on using them for the long haul. Those discs are pretty good for new players but even better as you become better at the game.
With that said, most new players will benefit from a starter set. The discs tend to be more stable and require less power, which is much better for players with less than perfect form. These discs are designed to be thrown with less power and will actually fly farther for new players, so it's recommended to start with those discs first, then upgrade as you get better and put more power and finesse behind your discs.
Without any further delay, here are the top 7 disc golf starter sets.
#7 Innova Disc Golf Dx 3 Pack Disc Set
Pros
Leopard, Aviar and Shark are excellent beginner discs
Great set for kids
Easy discs to learn with
Cons
Less durable DX plastic
Will need to upgrade to other discs with experience
Doesn't come with a bag
Coming in at #7 is the classic disc golf starter set by Innova. This is the old faithful of disc golf starter packs. Most players may recognize this as the first set if disc golf discs they ever received. I do. This was the first pack I picked up when I was introduced to the game and it really is a great set. Let's go over the pros and cons.
The discs that come in this pack are fantastic for new players. The Leopard is the most popular disc among new players for it's slower speed and stability, which make it the perfect driver to use when learning how to throw. Also, the Shark is a great mid range disc for beginners. It's an overstable disc with a flight path that's straight with a sharp curve at the end.
The putter in this set is the Aviar. You could use this putter for the rest of your disc golf career and be perfectly happy with it. It's the number one putter in disc golf and has won more disc golf championships than all other putters combined. This putter in tandem with a Leopard driver and a Shark for mid range shots, really rounds this pack out. You'll have great versatility with a minimal amount of discs that are friendly to use and learn with.
The biggest downside to this pack is also it's greatest advantage. The Leopard and Shark make this a great set for beginners, but as you grow as a player and become better at the game, you'll want to upgrade to discs like the Destroyer or Buzzz, which require more power and finesse, but will ultimately perform much better with better skill.
These discs are also made from the DX plastic offered by Innova. It's a great flying plastic and has a really nice feel to it, but it tends to get beat up fairly easily. If you hit a tree, it's going to leave a solid nick in the plastic. That's not that bad, but over time, you'll notice that the disc won't fly quite the same as when you got it.
The timing works out fairly well though because by the time the discs are too beat up to keep using, you'll have gotten quite a lot better at the game and you'll want to upgrade to other discs anyway, so don't take that as a reason to disregard this pack. It's one of the best starter packs out there.
These are solid discs, and if you're new to disc golf, you really can't go wrong here. You can pick up this starter set here. (link to Amazon)
#6 Innova Premium Beginner's Disc Golf Set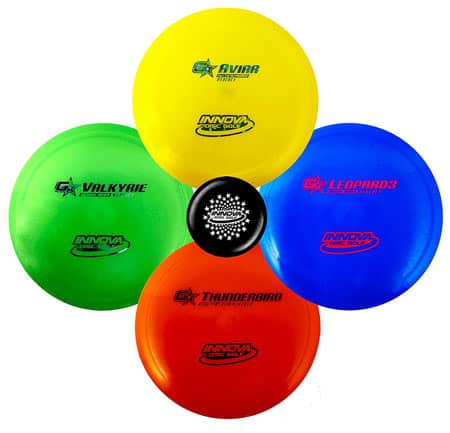 Pros
Offers good disc options
More durable and grippy GStar plastic
Comes with a mini disk
Cons
Will need to upgrade to other discs later on
Doesn't come with a bag
#6 brings us the Innova Premium Beginner's Disc Golf Set. This is a great set of discs made from Innova's GStar plastic, which has a nice combination of durability and grippiness. The specific discs offered in this set are very good discs for beginners and will still be great as you move into the intermediate stages in terms of skill.
This set also comes with the Aviar putter. As stated above, the Aviar is a fantastic putter that you never need to replace, unless it becomes damaged. It's a straight flying putter, with very little fade which helps out nicely on longer putts. In GStar plastic, the Aviar feels great in the hand, even when it's wet outside which is a nice bonus.
The leopard 3 comes in this pack, which is the updated version of the Leopard from the #7 starter pack. It's slightly faster and has less of a glide, but still great for new players to learn on. If thrown too hard, it will turn hard right with a right hand back hand throw, but if thrown smooth with less power, it flies laser straight with a slight fade at the end. This is what makes it such a great disc to learn on. When it's starts turning too hard, it's time to switch to the other two discs in this set.
This set makes the list for it's inclusion of the Valkyrie and Thunderbird. Both discs are great options for players with slightly too much power in their throw than the Leopard3 can handle. One is overstable while the other is understable, which gives you great options to use what works in your situation, or try the two styles of discs to see what you like better.
As a bonus, this set comes with a mini disc. Mini discs are like regular discs, but smaller and are actually not meant to be thrown. Not really. They make mini baskets for you to throw them into, but mini's are actually meant to mark your lie as you get ready to putt. You put the mini just in front of your disc, put your disc back in your bag, and putt from behind your mini. It's mostly done in tournament/league play and you probably won't see it much with casual players.
Ultimately, this is another great set by Innova that I definitely recommend for beginners who would like to try a couple different drivers to see what they like to throw. You can pick up this starter set here. (link to Amazon)
#5 Innova Disc Golf Set with 4 Discs and Starter Disc Golf Bag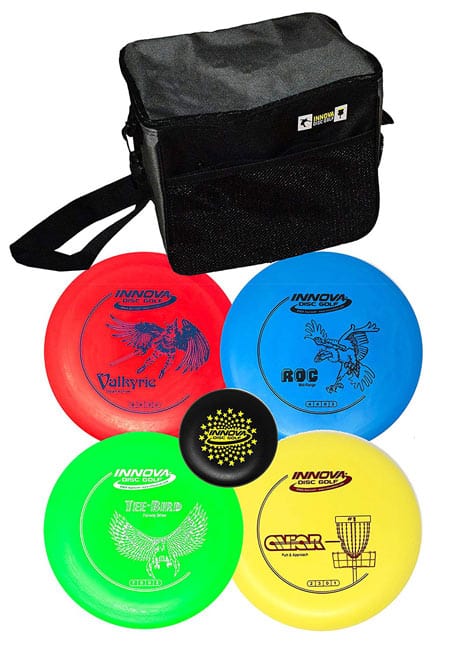 Pros
Offers good disc options
Comes with a bag
Comes with a mini disk
Cons
Will need to upgrade to other discs later on
Less durable DX plastic
#5 is the Innova Disc Golf Set with 4 Discs and Starter Disc Golf Bag. This is a fantastic set. It covers all your bases. You've got a great putter and mid range, and you've got two great drivers. This set even comes with a sling bag and mini disc which are really fantastic added bonuses.
The discs that come in this set are the Aviar, Roc, Valkyrie and Tee Bird. We've covered the Aviar in both of the previous sets on this list, which just goes to show how popular this putter is. All around, it's a solid putter for both new and seasoned players alike with a nice straight flight path and a slight, very reliable fade.
You've also got the Roc in this set as your mid range flyer. The Roc is a fantastic mid range and one of the most popular discs in the world. It's an overstable mid range with a dead straight flightpath with a fade at the end. Famously used quite frequently by Paul McBeth before he switched over to Discraft, the Roc, like the Aviar is a disc that is great for beginners but used quite often by the pros as well.
This set comes with two great drivers, the Valkyrie and the TeeBird. With the TeeBird, you have a great, overstable fairway driver that has a nice straight line with an easy fade at the end. It's a great driver for beginners. The Valkyrie is your distance driver. It's an understable disc made for longer shots. Trowing right hand back hand, the disc with turn a bit to the right before finishing back on your line in the center. You need to throw it hard enough for this to happen, so make sure you give it enough height and power to turn and then come back on your line.
What makes this set a great pack for beginners is the inclusion of a mini disc and bag. You probably won't use the mini disc all that often until you get into competition play, but the bag is a big win for new players. 4 discs is too many to just carry in your hands as you walk around the course. You'll want something to keep them in and though this bag might not be top of the line, it does the job of holding your discs all in one place as you play with a handy mesh pocket on the front for a drink, snack or your keys.
All in all, this is a fantastic set if you're new to the game and makes a great gift for someone just starting out. You can pick up this starter set here. (link to Amazon)
#4 Innova Disc Golf Premium Plastic Upgrade Set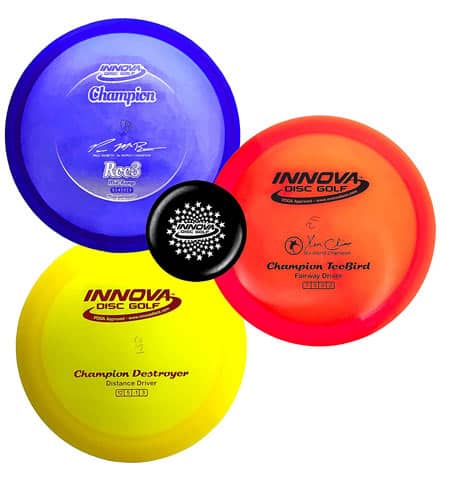 Pros
Champion plastic
Great disc selection
Comes with a mini disk
Cons
Not the best for beginners
Doesn't come with a putter
Doesn't come with a bag
Scoring the #4 slot on this list is the Innova Disc Golf Premium Plastic Upgrade Set. I wouldn't recommend this set to someone completely new to the game. This is the perfect set to upgrade to once you've gained some experience using one of the other sets that more beginner friendly.
The discs in this set are the Destroyer, TeeBird and Roc. Even if you don't pick up this set, all three of these discs are excellent and I definitely recommend at least trying them out at some point in your disc golf career. They're all made from Innova's champion plastic which is their high quality tier of plastic. You'll find that these discs are more stable and firm than other Innova discs. Also, the champion plastic is more durable, so you don't need to worry about hitting trees or other obstacles.
The Destroyer is the number one disc in terms of disc sales on many of the top disc selling websites. It's a 12 speed disc with a slight turn and fade for maximum distance. It's heavily popular among pros and casual players alike for it's ability to fly for great distances with either backhand or forehand throwing styles.
This set, like some others, also comes with a TeeBird fairway driver and Roc midrange. Both are great discs and you'll be glad to have them in champion plastic so they'll stay consistent for you in the long run. Also, both of these discs are overstable so they'll hold a nice straight line with a smooth fade at the end of your shot.
With two amazing drivers and an awesome mid range, the only staple this set is missing is a putter. That's a shame but given the quality and disc selection in this set, you really can't complain too much. Besides, if you're ready for this upgrade set, chances are you've been playing for a little while at least and you already have a putter. If not, or if you're looking to upgrade to a new putter, I have some suggestions on this page.
To sum things up, this is a great set if you've figured out the game and you're ready to upgrade to some higher quality discs. You can pick up this starter set here. (link to Amazon)
#3 Innova Disc Golf Starter Set | Beginner Discs
Pros
Great beginner set
Instructional information
Comes with a junior disc
Cons
Will need to upgrade to other discs later on
Doesn't come with a bag
Less durable DX plastic
Set #3, The Innova Disc Golf Starter Set | Beginner Discs, is very nearly the total package for a beginner introduction the game of disc golf. This set comes with everything except a bag. Let's go over the details of this awesome set.
First, the disc selection of this set is huge. The variety is a big bonus for this set. It allows you to try out many different types of discs and discover your favorites. Something all disc golfers come to love about the game. With this set, the disc selection does vary slightly, but it looks like the most common combination is TeeBird, Leopard, Valkyrie, Beast, Stingray, Roc, Shark and Rhyno. You also get a mini disc or junior disc which can be thrown.
This set also comes with a set of scoresheets by 1025 and disc flight reference card. Personally, I don't use scoresheets. It's much more convenient to use an app on your phone to keep score. There are several available. But the disc flight reference card is interesting and could really be useful to new layers to the game.
On of the downsides to this set is that all of these discs are made from Innova's DX plastic which is less durable. Your discs will break in quickly and the flight paths will change slightly as they become more understable. Another downside is that this set doesn't come with a bag.
This set is the perfect set to introduce someone to the game. I highly recommend this set to anyone starting out wanting to get your feet wet with many different discs. You can pick up this starter set here. (link to Amazon)
#2 Discraft Disc Golf Pro-D Starter Package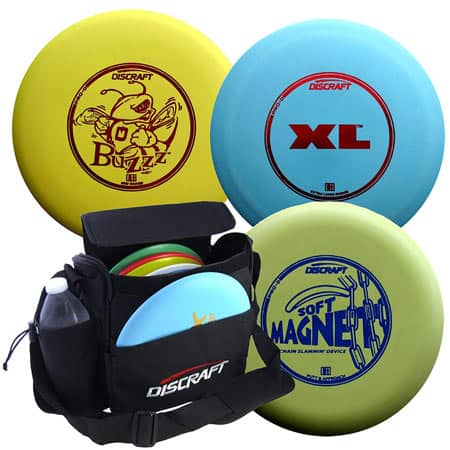 Pros
The complete package
Great disc selection
Comes with a bag
Cons
Will need to upgrade to other discs later on
The runner up on this list is the Discraft Disc Golf Pro-D Starter Package, and it's tough to say that this is a second place pick! It's really number one in a lot of ways. Let's talk about why.
Whereas #3 was nearly the complete package, this starter set IS the complete package. It's the perfect starter set. It's got truly excellent discs, especially the Buzzz which is one of the greatest mid range discs ever made. The buzzz is a stable to overstable mid range that will hold your when given power so you don't Also, the putter in this set is the magnet which is a great putter. It's got a mostly stable flight path a small amount of fade. It's used all over the world and is a very popular putter.
The XL driver by Discraft included in this set is a straight flying stable driver. It has a speed of 8 which makes it perfect for beginners who are just starting out. This means that you won't need to put too much power into your drives in order to gain decent distance, which is perfect when you're learning.
Topping off this set to complete the package is the bag. The bag that comes with this set is an over-the-shoulder sling pack which can hold 4-5 discs and one more slot on the outside. A nice feature on this bag is the slot on the side for a water bottle. It's a simple bag, but certainly does the job of holding your discs, making this a perfect addition to this set.
The only downside to this set is that there is only one driver and it's a slower speed driver. As you gain experience, you'll want to try out higher speed drivers that fly further than the XL disc will fly.
To sum things up, #2 on this list is the perfect grab and go set. It has everything you need to get out there and play right from the start. You can pick up this starter set here. (link to Amazon)
Honorable Mentions:
Before we get to #1 on our list of best disc golf starter sets, I want to mention a couple of sets that don't quite qualify as 'starter' sets. They're not exactly sets for beginners, but they deserve a spot on this list as they do come in a set and they're worth taking a look at.
Floating Disc Set
I have a whole separate article on floating discs, which was prompted by a particularly bad day when my group and I lost roughly 8 discs on a course next to a lake.
It was a bad day. =(
The good news is that I found out about floating discs, and there's no gimmick here. Innova has a set of floating discs out right now that are legitimately awesome discs, that just happen to float as well.
This set actually has a putt & approach disc, and two distance drivers, though the Dragon, with a speed of 8, could also be used more like a fairway driver. The 12 speed distance driver that comes with set is the Wahoo. It's a bit bulky and understable with a fair amount of turn and fade.
The Hydra is the perfect putt and approach disc when the basket is backed up by a body of water. If you happen to throw too far, you'll be out of bounds but at least you won't lose your disc. You'll just need something to fish it back to you.
I recommend to all players that they have at least one floating disc in their bag, but it's a good idea to be ready to go for any possibility. Have a set like this with you is a great way to make sure you're ready for that dicey hole next to the water. You can pick it up here. (link to Amazon)
Glow in the Dark Disc Set
You'd be surprised at how much fun it is to play disc golf in the dark. It's actually pretty awesome to see a lit up disc streak through the air in the dark like a tiny UFO.
Some people use little LED lights that you can stick to the bottom of your disc with tape, but they don't work all that well. I actually just found one recently at our local disc golf course. The LED must have run out of battery and the owners couldn't find their disc. I'm sure you wouldn't want to lose your discs that way.
There's a company called Nite Ize that makes an awesome set of discs with an LED light built into them that shoots light through fiber optic cables inside the plastic. It makes the whole disc glow, including the outer rim.
The coolest thing about these discs is that you can change the color of the LED lights so that each player can have a different color disc. It's a really creative way to keep track of who's throwing what. There's also a cap on bottom of the disc that pops off for easy battery replacement.
I definitely recommend the Nite Ize Flashlight Disc Golf set (link to Amazon). It's a great set for anyone who wants to play later in the day when it may be getting dark on you.
#1 Innova Disc Golf Starter Set
Pros
Perfect disc selection
Great versatility
Comes with a mini disc
Cons
Doesn't come with a bag
Less durable DX plastic
#1 on our list is the Innova Disc Golf Starter Set! Hands down, this is simply a really amazing set of discs. Even without a bag in this set, I have to go with it as my #1 recommended set. Here's why:
Let's start with the disc selection. You've got a world class putter with the Aviar. The #1 selling distance driver on the market with the Destroyer, and one of the best midrange discs available right now with the Roc3. Those three discs together make a set that any experienced disc golfer would be more than happy with, but they also throw in two more drivers on top of that. The TeeBird, which is a great overstable fairway driver and the Leopard, the most popular driver amongst beginning players.
There's something really interesting with these discs. I would say that if you pair the Aviar, Roc3, TeeBird and Leopard together, you have an amazing set of discs for a new player. As you get better with this set, you don't need to upgrade to any new discs. Switch up your set to the Aviar, Roc3 and Destroyer and you have a solid set that you will never need to replace. At least until the discs wear in too much.
With that said, one of the downsides of this set is the plastic. DX plastic flies great and feels great in your hands, but it does beat in quickly compared to other plastic types. This means that hitting trees or other hazards are going to leave marks in your disc, and after a while, your disc will start to fly differently than you're used to. This means it's time to upgrade to the same disc in champion plastic.
One other downside to this set is that it doesn't come with a bag. The excellent disc selection here makes up for the lack of a bag, but if you need a bag I would recommend this bag here.
If you're not sure what to get and puzzled by all the different discs that are out there, this is the perfect set for you! It has the perfect set of discs to get you through your beginner stages and also perform amazingly well once you know what you're doing. You can pick up this starter set here. (link to Amazon)
Wrapping Up
Well, that just about covers it. These are my top 7 starter sets, ranked so you know what's the best without having to guess or do a ton of research on your own. If you're looking for yourself, or as a gift for a friend, you've got some great choices here no matter which one you go for!
Best wishes and have fun out there! =)