Once you have been bitten by the disc golf bug, there is no turning back. Before you know it, you will be planning vacations around the best disc golf courses or sneaking out of work a few minutes early to catch the best sunlight hours to practice your throws.
Disc golf continues to grow in popularity thanks to the fact that it is a sport for all ages and all skill levels. It's an incredibly accessible sport as well: you do not have to fork out thousands of dollars on fancy equipment or membership fees to play.
Even though the basic structure of the game mirrors the way golf is played, it does not come with the same big price tags associated with clubs, course fees, and golf attire. Disc golf can be enjoyed in that well-worn tee shirt your spouse has threatened to drop in the donation bag more than once and the "running" shoes that you never ran in, despite your best intentions.
Some inexpensive discs and a local course will have you playing in no time! The only gear you really need beyond your discs is a good disc golf backpack. And we have rounded up the best choices for you here.
How to Shop for a Disc Golf Bag
When looking for a disc golf bag, you should first consider the number of discs you typically carry. These bags can be designed for as few as 6 discs or as many as 25; some disc golf players may want more than one bag to have options. You might use a smaller bag for a quick practice session during the week and a larger bag for a full weekend of disc golf with your local league.
In addition to size, there are several other important things to consider. Durability is incredibly important when you consider the fact that the bag must stand up to the elements and the outdoors.
It should be tough enough to withstand a quick toss to the backseat or a park bench, and it should also be water-repellant if your afternoon game is interrupted by a sudden summer shower.
Tip: consider waterproofing your bag with a spray before you use it on the disc golf course to extend the life of the bag.
Another factor to consider when shopping for a disc golf bag is price. They can be cheap ($10 and under) or run all the way up to $200. If you are using the bag several times per week, it makes sense to invest in one that will last!
Water bottle holders are a great addition to most modern disc golf bags these days. Many of our options have pockets and pouches that allow you to store bottles and even cans in your bag when you go out.
Comfort, of course, is always a priority as well. Keep in mind that you will be carrying the bag for a good amount of time, even during gameplay. So, make sure it provides the best in comfort. Look for bags with padded shoulder straps. Also, look at the panel on the back of the bag. Is it breathable?
Finally, style is never out of the question. Like backpacks, you can find different types and styles of disc golf backpacks, including side and strap style bags. Style is always a personal choice, but also keep in mind the functionality of your bag. If it looks good but can't fit the frisbees you need, then it isn't the right disc golf backpack for you and your needs.
Our Favorite Disc Golf Bags
1. Athletico Disc Golf Bag
Right out of the gate, we are including one of the best bags around. The Athletico Disc Golf Bag packs a lot of punch, with its 10-to-14 disc capacity, padded and detachable shoulder strap, large water bottle pocket, and more.
This is an affordable choice that longtime disc golf players favor; you are bound to see quite a few of these bags on your local course. If basic black bores you, the Athletico Disc Golf Bag also comes in two different camouflage versions as well.
2. Athletico Power Shot Disc Golf Backpack
Buy Athletico Power Shot Disc Golf Backpack
While the Athletic Power Shot lacks when it comes to color choices (it is only offered in black and blue), it more than makes up for it in features. This sturdy and durable bag has a 20+ disc capacity, so it is a great choice for advanced players.
Padded shoulder straps and padded lumbar support make it one of the most comfortable bags to carry, and a rigid bottom with feet means the bag stands upright when you store it on the ground, a bench, or a picnic table near the course.
A large and insulated drink cooler pocket is another standout feature, keeping your water bottle cold on hot days out on the course.
3. Disc Living Disc Golf Bag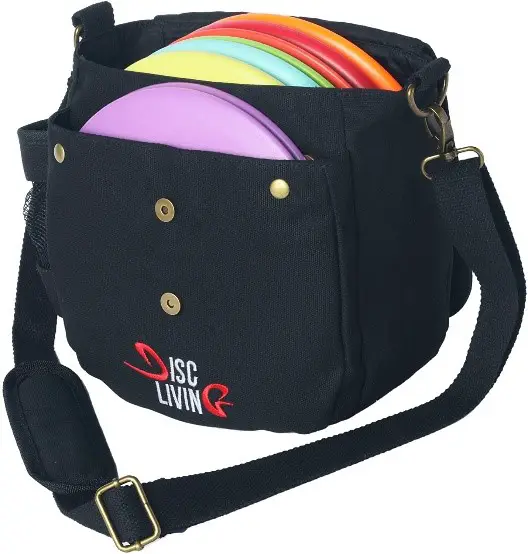 Constructed of durable waxed canvas, this compact bag is easy to carry on the go and also comes with belt loops if you want to wear it around your waist while playing. You can also carry the Disc Living bag in a cross-body style, and it holds up to 10 discs and a water bottle.
In the main compartment, you will be able to carry 7-8 discs, and the front pocket is where you can stash two putters. The adjustable and padded shoulder strap offers extra comfort, and the bag comes in six different color-fabric combos.
4. Discraft Weekender Bag
A great smaller bag choice for a quick weekday round or a practice session, the Weekender bag will hold 6 to 8 discs and a water bottle, and a few small necessities.
This is one of our go-to picks for beginners: it's the perfect bag for getting started in disc golf without spending a ton of money before you know how often you will want to play.
5. Dynamic Discs Cadet Disc Golf Backpack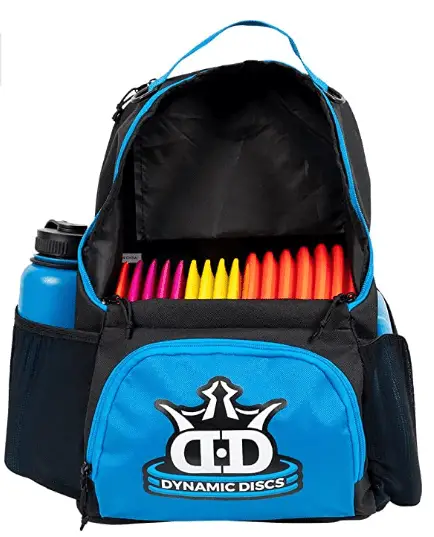 Buy Dynamic Discs Cadet Disc Golf Backpack
The adjustable straps on this backpack make it comfortable and easy to carry, and the 17-disc capacity means it is a great bag for everyone from beginners to more advanced players. The bag comes in five different colors, and two "D" ring attachments are useful for carrying a towel or other items to the course.
The mesh side pockets are perfect for carrying water bottles or extra accessories, and two extra zippered pockets are the perfect way to conceal phones or other valuables.
6. Fade Gear Crunch Disc Golf Bag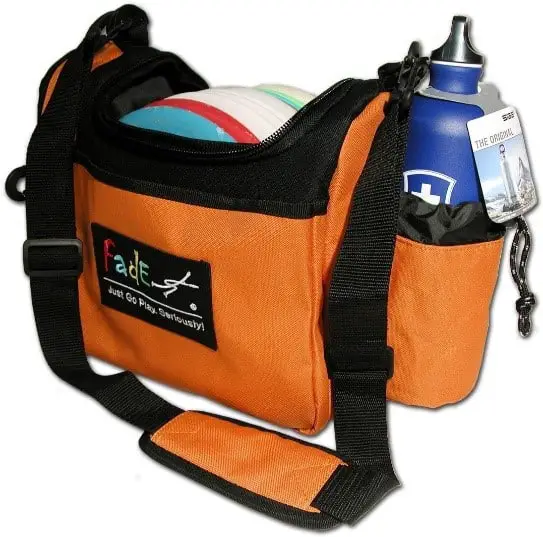 Buy Fade Gear Crunch Disc Golf Bag
This bag's claim to fame is its incredibly light weight.  At only 20 ounces, this bag is a breeze to carry but also durable on the course. A car key clip-on strap and a towel clip are extremely handy, and the insulated 1-liter drink pocket means you can stay hydrated while on the course, too.
The adjustable shoulder strap has padding for comfort, and this budget bag is a great choice for any player with a 10-to-12 disc capacity.
7. Infinite Starter Bag
This "starter" gab is good for any player, whether you are new to the game of disc golf or a longtime and avid participant. The Infinite Starter is available in five different colors and holds
four to six discs, and it also has an adjustable strap. This is an under $20 bag that is simple, useful, and functional for any player. We especially like the bright options like orange and teal, making it easy for a player to spot her bag quickly in a sea of basic black ones.
8. Innova Champion Discs Standard Bag
Buy Innova Champion Discs Standard Bag
While this is designated as Innova's "standard" bag, we do not think the name does it justice. This lightweight and durable bag more than gets the job done, and it is a popular choice among disc golfers everywhere. Five color choices are available.
This bag has pockets galore, making it easy to carry not only your discs but also your keys, phone, pencils and scorecards, sunscreen, water bottle, and anything else you might need for a day of recreation. A 10-to-13 disc capacity makes the Innova Champion Discs Standard Bag a good choice for any kind of player.
9. Innova Super Heropack II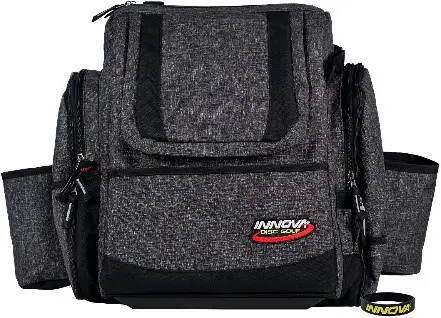 This bag is not exactly budget-friendly, but it is a serious bag for serious players. If you want to invest in a durable bag that will last, the Innova Super HeroPack II is an outstanding choice.
It holds up to 25 discs and boasts water-resistant top zippers and triple-riveted feet. The thick padding in the straps and the back of the bag ensure all-day comfort and the roomy side pockets allow plenty of room for storing everything you need on the course.
10. Kestrel Disc Golf Bag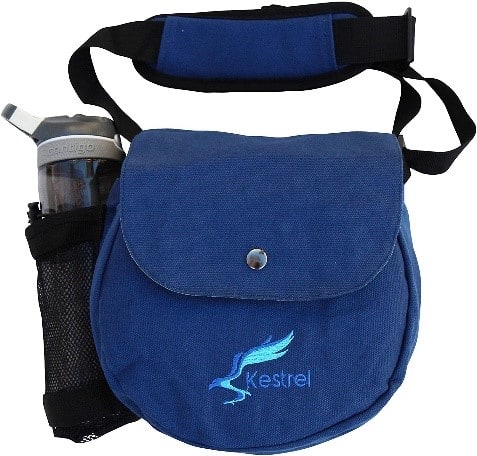 A budget-friendly choice that comes in a nice variety of colors, the Kestrel bag is a great pick for beginners with two separate pockets for disc organization. Players can carry 6 to 10 discs and a water bottle or beverage of choice in this small and durable case.
11. Prodigy Disc BP-2 V3 Disc Golf Backpack
Buy Prodigy Disc BP-2 V3 Disc Golf Backpack
This top-of-the-line backpack is for serious disc golfers who want an incredibly durable bag that does it all. The Nylon Ripstop fabric is made to stand up to water and wear and tear while out on the course, and the capacity of this bag is simply unbeatable. It holds 26 discs with an additional 3 or 4 putters in another pocket.
Padding on the straps and the back of the bag makes it comfortable to transport and carry around the course, and two insulated bottle holders mean you can stay hydrated and cool while playing on warm summer days.
12. Rogue Iron Sling Bag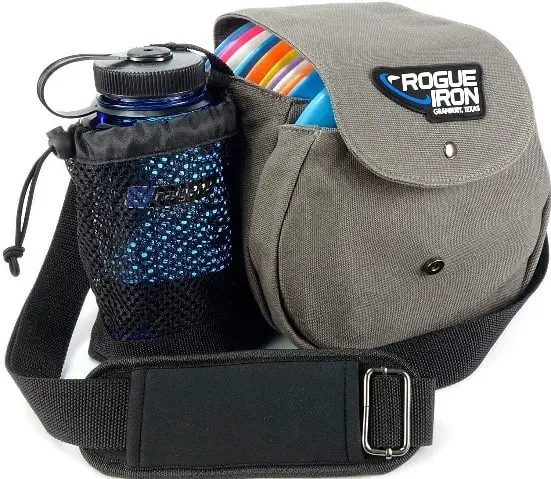 A budget-friendly choice for carrying 14 discs, this Rogue bag is a durable choice with a padded and removable shoulder pad. Three-disc pockets keep you organized while on the course, and two mesh storage pockets are perfect for water bottles and storing other items; you can even fit a small speaker in these pockets if you are the designated "league DJ" for your group!
The bag's collapsible pockets mean you can change up how you use it, filling it up for long days of play or just using some of the compartments for quick practice sessions. Rogue bags are designed by disc golfers passionate about the game and have thought of every detail to make the perfect backpack.
13. The Throwback Sack
If you love enjoying a frosty beverage during your round of disc golf, this is the bag for you! The Throwback Sack holds not only your discs (with a 12-to-15 capacity) but also allows enough room to tote six beverages while you play. A pencil holder, putter pocket, towel clip, and zippered phone or wallet pocket make this the ideal disc golf bag for a full day of fun.
Final Tips on Disc Golf Bags
Some beginners think, "can't I just use a regular backpack?" The answer is yes, you can—but you will quickly figure out why disc packs make such a difference.
A disc golf backpack and its organizational compartments ensure you are not slowed down on the course, something the other players will certainly appreciate.
Be sure you add some extra protection to your bag with a waterproof spray, and also label the bag in case it gets mixed up with the bags of other players at your local course. Don't forget to label your discs while you are at it!

Finally, make sure to keep your disc golf backpack clean. You can typically handwash your bag the same way you handwash your more delicate clothing, or you can drop it off at your local dry cleaners. We do recommend keeping your bag out of a washing machine, or else it will experience wear and tear much sooner than expected.