A disc golf course is exactly what it sounds like – it's a golf course that players complete games of disc golf on. Disc golf is slightly different from a regular round of golf, so the golf course needs to be modified to account for this. 
If you don't know what disc golf is, you're in for a real treat. Instead of using a traditional golf club and ball to sink a hole, you'll be throwing a frisbee disc towards a target instead. 
Doesn't sound much like golf, right? However, the premise and rules are pretty similar. Today we'll be looking at how the golf course needs to be modified for a game of disc golf, as well as the best disc golf courses in the United States.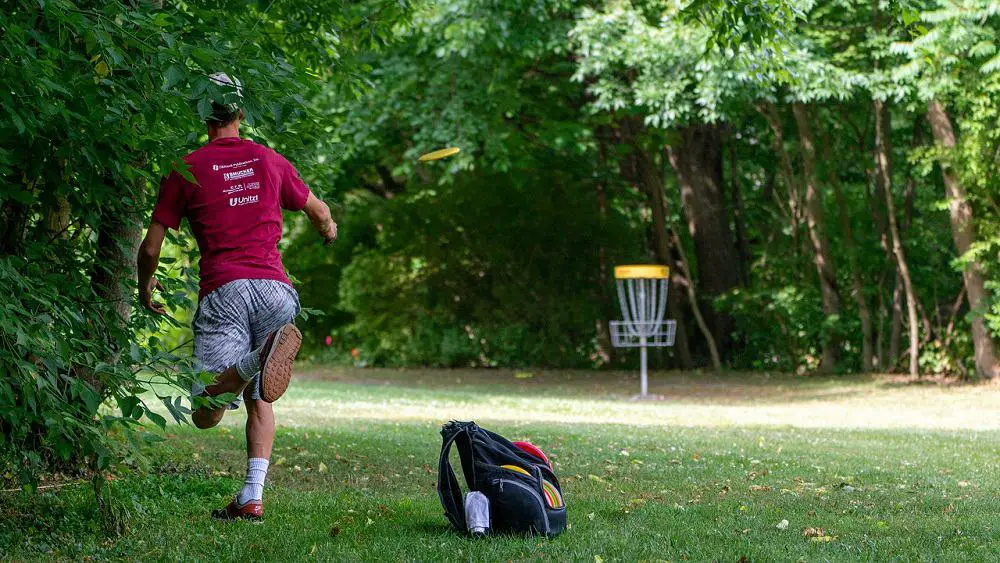 Making your own disc golf course
You can make your own disc golf course, or you can use a field. All you need is an open space where you can freely throw a frisbee disc.
It's best not to use a real golf course as you might disrupt others playing their own rounds of traditional golf. 
A fun aspect of disc golf is that you can make it as difficult or as easy as you'd like, with objects as obstacles, such as tree trunks and lampposts. Alternatively, you can use sticks or rocks and a little bit of imagination as these obstacles. 
Many people use a disc golf basket to replace the golf holes, and these are either called 'targets' or 'baskets'.
These are made up of metal chains and are designed to catch the discs so that it drops safely into the basket without jumping back out again. 
You can either purchase a permanent basket if you're a common disc golf player or a temporary pop-up one online. You don't need to use a specific disc golf basket, but they make the game feel a little more legitimate and fun. 
If you didn't want to spend any money, though, you could designate a tree stump or trash can as your chosen 'basket'. 
Visiting a disc golf course
UDisc has a directory of over 11,000 disc golf courses online, which you can use to find all of the available courses near your area. Around 70% of the courses found here are in the United States, so you'll be sure to find a great option near you. 
Each of these courses offers slightly different obstacles and interactive baskets, so you can enjoy exploring different disc golf courses near you to see which is the best. Get your group of friends together and enjoy the neverending world of disc golf! 
The best disc golf courses in the United States
UDisc rates the disc golf courses on their directory each year, and thanks to the 2 million reviews from disc golfers on the website, we think that it is one of the most reliable websites out there for rating disc golf courses. 
Below are the top disc golf courses in the United States: 
1. Maple Hill – Leicester, Massachusetts
This golf course has been called number 1 in the world in 2021. Maple hill is a large course with uneven land, lots of obstacles, and plenty of fun to be had by everyone.
There are water hazards, lots of distances and angles to take, and some much harder baskets than others. 
There is plenty of variety over these 18 targets, and you can switch to whichever number you want, depending on your mood. Maple Hill is not only fun, but it is also incredibly picturesque and beautiful.
This is a great day out for anyone who wants to kick back and throw some discs. 
2. Blue Ribbon Pines – East Bethel, Minnesota
With 27 holes, this disc golf course will keep you entertained for hours. It is ranked number 4 in the world in 2021, you won't be disappointed with Blue Ribbon Pines.
This golf course has been created in a tall forest full of tightly packed trees and shrubs. 
Your accuracy will be tested at Blue Ribbon Pines rather than distance, so this is the perfect place to work on your scoring. However, there is also a driving range hole that allows you to let loose and throw your disc as far as possible. 
3. Flip City Disc Golf Park – Shelby, Michigan
Flip City has been named number 6 in the world and it has 24 holes to play. Once a farm, this disc golf course has plenty of open land that you can work on your distance.
There are also wooded areas to use, and most of the targets take you through more than one landscape before you reach the basket.
This is a very hilly area that requires you to throw the disc up or down each hill, making the courses both harder and more interesting.
Flip City has been designed to be both accessible for beginners while challenging enough to remain fun for more advanced players. 
3. The Diavolo Disc Golf Course at New Hope Park – Cary, North Carolina
One of the main selling points of the Diavolo Disc Golf Course is that it's free to use with 22 holes. It was rated number 7 in 2021 despite only being opened in 2020.
This course is made up of two 11 hole loops that you can work your way around. 
During these 22 holes, all of your disc golf skills will be put to the test. There are changes in elevation, water hazards, and a great mix of open and compact wooded areas. 
Summary
We hope that you've learned something interesting about disc golf and the courses used for them. You can make your own course for you and your friends to use, although we highly recommend visiting one that has been created for public use. 
These are much larger and have more interesting features than one that you have made in your local park. You'll also be able to work on your skills and enjoy more competitive games with your friends.
No matter which course you choose, you're bound to have a great time!