The Best Disc Golf Bags
Of all the many accessories out there for disc golf, bags land on my very short list of absolutely necessary items. Thoughout your disc golf career, you will amass a small treasure troves worth of discs, and you will need some way to carry them all while you play. This is why a bag, especially a bag made for disc golf, is so important.
Can't I Just Use A Normal Backpack?
You may be wondering if you can use any backpack as a disc golf bag. You really shouldn't. Disc golf bags make the storage and access of your discs optimal. They're built to make playing disc golf easier for you by displaying your discs in a way that makes them easy to grab and easy to put away. This helps because you won't be fishing around in your bag every few moments trying to find the right disc to throw next.
The added time of using a normal backpack adds up and can be very frustrating. There are other reasons as well, which I go over below.
What Makes A Good Disc Golf Bag?
There are several reasons disc golf bags are worth the money. The first is the accessibility of your discs. Like I mentioned in the paragraph above, you want a bag that makes it easy to grab and stow your discs. Think of your bag as a tool belt. You want to be able to quickly and easily see your options and grab a disc. Most disc golf bags do this very well by having an open compartment that is the right size to show your discs from a side profile. This makes them easy to identify and grab, and also easy to put back in the bag.
The second thing that makes disc golf bags great isn't really a feature exclusive to disc golf bags, but you'll want to get one with a water bottle pouch/pocket. It's really important to stay hydrated as you play and having a bag with a handy spot to put a water bottle is a key feature. I like larger pouches to fit a 32 oz. Nalgene bottle.
Third, it's important to have a bag with compartments for things like your wallet, keys and phone. Really good bags also have larger compartments for a hydration pouch or storage for a folded up rain jacket or windbreaker.
Lastly, small things like a key ring attached to the bag or a strap on the side for miscellaneous gear go a long way. You can attach a disc golf towel to the outside of the bag with the keyring, or strap a folding stool or umbrella to the outside using the strap. This really helps because it makes those items easily accessible and they won't take up valuable storage inside the bag.
The Best Bags On The Market
Basically, you'll want your bag to be comfortable, capable, and within your price range. That's why in this article we will be ranking the best bags that I've found from different price points, so that you know you're buying a great bag at the price point you can afford. Here we go!
Ranking System
I just want to explain my ranking system real quick so we're all on the same page:
$ = Roughly $50 Price Range
$$ = Roughly $125 Price Range
$$$ = Roughly $175 Price Range
$$$$$ = Roughly $300 Price Range
$ – Fade Crunch Box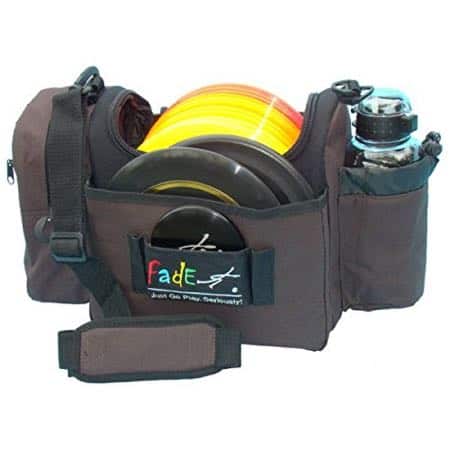 The first bag on our list is the Crunch Box by Fade. The Crunch Box is a sling style bag that comes in at a very affordable one dollar sign. The features on this bag are slightly limited, but for the price range, you really can't go wrong here if.
The Crunch Box is a durable sling bag that can hold up to 15 discs. It's got a pocket on the front that will hold your two favorite putters, a pocket on one side for a water bottle and a pouch on the other side that will fit your wallet, keys and phone. The shoulder strap has a nice bit of adjustable padding so your shoulder won't get sore throughout the day. Also, a nice feature about this bag is that it's very light, weighing in at only 20 ounces.
If you're looking for a bag you can sling over one shoulder and you don't want to very much money, the Crunch Box is my favorite low price range sling bag. It looks great, it has a bunch of great features for the price, and it's a durable bag, so you won't need to replace it after a year. If this sounds like the bag for you, I'll put the link to the Amazon page here.
$ – Latitude 64 Core
Also scoring in at only one dollar sign is the the Core by Lattitude 64. The Core is my entry level disc golf backpack of choice. If you don't have a lot of money to spend, but you still want a bag with decent features and durability, this is the bag for you.
The Core is a great bag for the price. It can hold up to 18 discs in the main compartment and there's room for a couple more in the top pouch. This bag doesn't have a dedicated pocket for your water bottle, but when unzipped, the compartments on the side will hold a 40 oz. bottle. The same pockets are also a great spot to stow away your wallet, phone and keys or other accessories.
The core is a lightweight backpack and a great entry level disc golf bag. I highly recommend this back to anyone who just can't spend the money on a bag with more features. The best way to pick up this bag is on Amazon. I'll post the link here for you.
$$ – Dynamic Discs Commander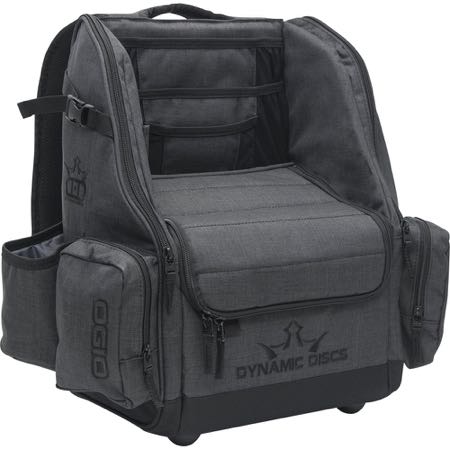 The Commander by Dynamic Discs is one of the best bags on the market right now. It's super strong, has a ton of great features and comes in on this list with only two dollar signs. It's really affordable, and for the price, you really can't find a better bag.
The Commander has a large open back with a main compartment that holds at least 20 discs. The slots directly above the main compartment are for easy access to your two most used discs, with a smaller slot beneath for quick access to your mini disc. This bag also has two large thin compartments that will hold a rolled up rain jacket or extra t-shirt. This are two bottle pockets on this bag that will hold a 32 oz. Nalgene bottle each and two cargo pockets that zip closed which are great places to store your phone, wallet and keys.
There's just enough space in this bag to carry everything you'll need. It's not too big, and not too small. One of my favorite things about this bag is the bottom of the bag, which is water resistant and sports molded plastic feet that keep most of your bag off the ground and out of the dirt. This is especially useful on wet or muddy days when you don't want your bag soaking through.
The Commander is an excellent bag and for the price, it is, in my opinion, the best bag on the market. You will love this bag. I highly recommend heading over to Amazon to check out more pictures, colors and find the best price. I'll post the link here.
$$$ – Dynamic Discs Ranger H2O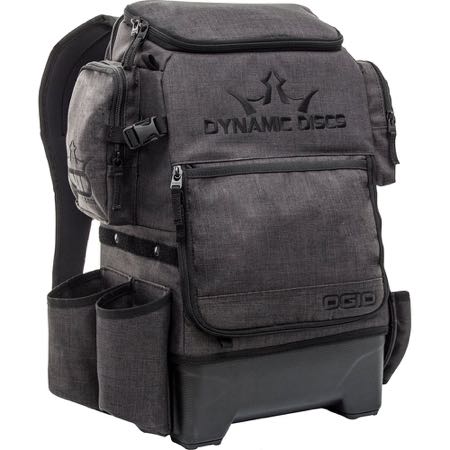 The Ranger H2O by Dynamic Discs is a lot like the Commander above, but upgraded to include a few great features that justify the slightly higher price tag.
The Ranger H2O is a really well built bag with a larger main compartment that can hold 20+ discs. There's another large compartment on top for extra gear, two smaller zip up pouches on the upper sides, two pockets on one side for water bottles and a slot on the other side for an easy grab of your favorite discs.
One of the great features of this bag is that it holds an Ogio hydration bladder with a pass through tube. It's a really convenient way to stay hydrated on the course. Also, the Ranger H2O comes with a molded plastic bottom for excellent durability and resistance to even the muddiest patches on the course.
The Ranger H2O is one of the top disc golf bags out there and if you have a little bit more to spend, I highly recommend that you consider purchasing this bag. I'll provide a link here to the Amazon page so you can see more photos and get the best price.
$$$$$ – Pound Octothorpe
It's said that the Octothorpe by Pound is the ultimate disc golf bag. I will say that this bag has all the bells and whistles and is made incredibly well. You really can't beat Pound's craftsmanship with this bag.
This bag sports a huge list of features:
REMOVABLE SHOULDER PADS FOR ALL MODELS (except Big Jerm)
Dual Haul Pockets w/Insulated Insert Included
Entire Lower Portion of Pack Reinforced with 1000 Denier Cordura  
Putter Pocket Overhaul: Fits 5 Putters, Snap for Lid, Convex Front 
Hydration Sleeve Access through Putter Pocket w/Dual Tube Pass Thru
Wider Long Pockets w/Upgraded Zipper Gauge
Larger Upper Side Pockets
Soft, Stretchy Cell Phone Pocket (easily fits IPhone 6+ w/case)
Pen/Pencil Slots Moved next to Umbrella Sleeve
More Durable Spacer Mesh (back panel/underside of shoulder pads)
Burlier, Larger Haul Loop
Pound Icon Label on Shoulder Pad Tip
Web Keepers to Retain Shoulder Pad Web
Disc Capacity: Main Compartment 16-20, Putter Pocket 4-5, Haul Pockets 4-6 ea
The only downside to this bag is the cost. I rate this bag at five dollar signs, which puts it outside the comfortable spending budget of many disc golfers. However, if you have the money to burn and you want the very best, you should take a look at the Octothorpe by Pound. You can find it here.
My Personal Favorite
The best bag in my mind has always been, the Commander by Dynamic Discs. It's the bag I own and have always recommended to other players. In fact, if you head over to my recommended gear page, this is the bag that I recommend as the number one bag. There are other bags that are a bit better, but the Commander is just a really excellent bag and the price of it makes it affordable for most people.
It's also an extremely durable bag, so you should never have to replace it. It's comfortable and most importantly, provides great access to the discs you need, when you need them. If someone stopped me in the streets and asked me for a solid bag recommendation on the fly, my immediate answer would be the Commander by Dynamic Discs. I promise you will love it. Here's the link one more time so you can check out the price and see some more photos.
Wrapping Up
That just about covers it. This is my list for the best disc golf bags on the market, ranked by price from low to high. I feel that this is important, because you need to know what's best for your price range as cost in an important factor to consider. I hope you've enjoyed this article and that I helped you decide which bag is best for you!
Best wishes and have fun out there! =)