When it comes to disc golf, the two stand-out brands are Discraft and Innova. Played in 40 countries as of 2020, disc golf has over 71,000 members worldwide and this number continues to grow.
Unlike traditional golf where you use a club to hit the golf ball, disc golf sees you throw a disc at a target.
But the rules are similar to golf! The course usually consists of 9 or 18 holes and players compete against each other by throwing a disc from a tee pad or a certain area toward the target.
They then throw again from where the disc landed until the target is reached. As with golf, the number of throws is tallied, usually in relation to par, and players try to complete each hole with the fewest numbers of throws. See? Just like golf. Kind of.
So, what about the equipment made for disc golf. Manufacturers such as Discraft and Innova are behind some of the most popular discs in the sport.
Both are rival competitors as they continually introduce new ways to inspire and grow the disc golf market.
But which one is the best? Well, today we are going to pit Discraft and Innova against each other. We will look at the disc designs and how they compare to one another. Let's find out what they're all about below.
Disc Charts
Discraft
Founded in 1979, Discraft has been pushing the sport of disc golf forward ever since. However, Innova has become the most popular choice between the two when picking discs. Let's compare the two below.
Discraft uses a stability guide to help their customers understand more about how their discs work. As with clubs and balls in golf, Discraft discs can vary. Each has its own properties that make it unique.
The majority of disc golfers are right-handed so we will use these players as an example. These players play with a backhand motion when on their first shot. Here, they will use a driver.
If the driver is thrown straight with usual power, the disc is considered stable and of a good build. When looking at the disc chart, this would be in either the orange or yellow row.
So, what is this disc chart all about? Well, the type of disc described above would receive a rating of 0 on the chart.
However, if the same player then throws a disc that has the same consistency but it starts to move slightly to the right, it would be deemed to have a negative stability score.
However, this fade to the right or left is what players want in their discs at times, especially in different weather conditions. If the fade is quite profound, the chart would give a rating of -3.
If the fade is only mild, then the rating will be -1. In disc charts, this is known as the "under-stable range." This would fall into any of the green-colored discs on the chart.
If the same right-handed player throws their disc and it fades to the left, the Discraft disc chart would show that the throw is nearing an over-stable range.
This slight fade to the left would receive a rating of 1 while a greater turn to the left would score 2.5. These discs will fall into the red and orange categories.
But, what if you're a left-handed player? If so, the classifications are switched. Discs that move to the left are deemed under-stable while discs that fade to the right are over-stable.
However, left-handed players are rarer. Because of this, there are no specific discs that are produced for left-handed disc golf players.
But do not despair our left-handed brethren! Using this knowledge from these charts can help you figure out your game and take it to the next level.
When you start browsing Discraft discs in the store or online, you may notice a stability rating on the disc itself. This is simply there to help you get a better understanding of that particular disc.
This is important as you can compare and contrast different discs to see which one has the ratings that suit your game best. But we recommend that you try out your discs before you buy.
This is the surest way of being happy with your purchase.
As you build your collection of Discraft discs, you should ensure that your kit bag has a mixture of different stabilities. The more stabilities you have the better prepared you will be for any challenge that comes your way on the disc golf course. 
Innova
Innova has been the industry leader of disc golf for many years. There tends to be a lot more information on Innova products than any other manufacturer.
This is why beginners are more likely to reach out for Innova products as their first discs to throw. Founded in 1983, it is slightly younger than Discraft but ever since then, Innova has built a very solid reputation.
As with Discraft, Innova has a lot to offer the modern-day, competitive disc golfer. 
Innova offers different grips and durability options with their discs. This ensures that there is something in their extensive range to suit your style of play. But some models are better than others in certain conditions.
The Star, GStar, and Starlight are better for throwing upwind while discs such as the Pro, DX, and Glow are superior when throwing a downwind shot.
If you have less power than other players but still want a driver that travels the distance you desire, the Sidewinder, Roadrunner, or Valkyrie are the ones to consider.
Or maybe you already have Gladiator strength and need a disc that stays under control, even on the windiest days. If your Herculean strength is impeding your disc golf game, consider using the Ape, Boss, or Dominator for better control. 
If you just want sheer speed, then the Colossus or Firestorm discs have the fastest release.
There are so many more disc models available with Innova. A few examples are:
Fairway drivers
Putt & Approach
Mid-Range discs, Speciality
Ultimate & Rec
There are over 100 discs to choose from with an almost endless variety to play with. The more you research your discs, the better chance you have at being prepared for any circumstance that comes your way on the course.
Plastics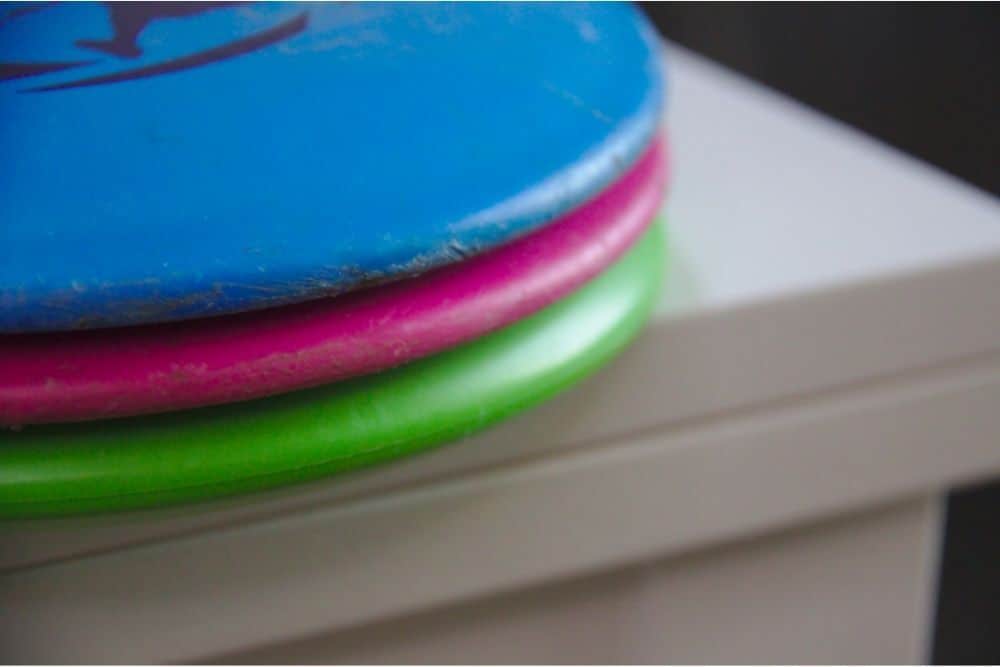 Discraft uses few plastics as they believe that less is more. Different polymer plastics are used in each line of the company's plastics. This diversity produces varied and useful outcomes when on the disc golf course.
We can't stress this enough: the best and most proven way to know if a disc is the one for you is to try it out first. Grip and rip those bad boys and see which one wins the round.
With Discraft, you can choose from 8 plastics:
FLX
ESP
Ti
Z
Z Lite
X
Pro D
Jawbreaker
The most durable out of these are the FLX, Ti, Z, and Z Lite discs. For the best grip when throwing the disc, you'll be looking at FLX, X, and Pro D.
The most inexpensive discs from Discraft are the X and Pro D. But if you're worried about the weather changing when you're on the course, the FLX is your best bet as it is the most versatile in different conditions.
Then there are Innova's plastic options.
You have 13 plastics to choose from, 5 more than with Discraft. This greater number of options is because Innova wanted to cater to both beginners and professionals. Of course, there are advantages and drawbacks to all options.
For the most stable plastic discs Innova has to offer, you should consider:
Star
Starlite
Color Glow Champ
Under stable varieties include:
If you're in the market for over-stable discs, then Metal Flake and Glow Champion will do the job for you.
When we consider the most durable Innova discs, the following would come out on top:
Star
GStar
Metal Flake
Champion
Glow Champion
The best grips are on:
With a greater variety to pick from, Innova has more to offer but discs from both manufacturers will suit all kinds of players. 
Discraft vs Innova: Which is the best?
Whichever brand you decide to choose, Discraft and Innova do everything they can to help you pick the best disc option that works for you and your game.
You may find that Discraft offers the perfect over-stable disc for you while Innova has the best under-stable model.
As long as you find a disc that is ideal for you and your disc golf game, nothing else matters. Whether it's the most expensive or the cheapest model, they all have something to offer all kinds of players. 
So, there is our review on these two giants of the disc golf world. Now you know some of the key differences and similarities, we recommend trying a few discs from each manufacturer first and then hit the disc golf courses across the country.