A standard round of Disc Golf consists of 18 holes, and this is the standard number for most courses.
But some courses can have half this number, with only 9 holes, and some courses could have more. My local course actually has 22 holes for recreational play. They narrow the layout down to the standard 18 holes though when they play tournaments.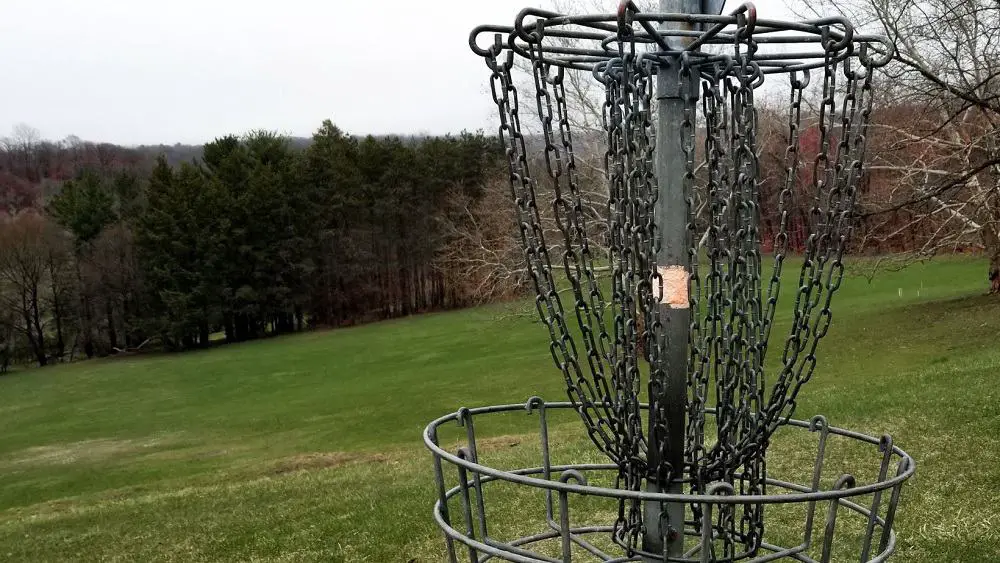 Par 3 courses can have between 9 and 18 holes, but 18 holes is considered the average number and is the number of holes found in courses that host professional tournaments.
Let's take a look at how to navigate a Disc Golf Course, as well as what a round of Disc Golf actually entails. 
Are Disc Golf Holes Marked?
Holes will be clearly marked on virtually every course and will be easy to spot. Each hole should have a sign indicating the hole, usually this sign is a number. Some courses have the number, the par of the hole, and the distance to the basket marked too.
However, more rugged courses tend to just have concrete and a dirt teepad and these can be harder to navigate. 
How To Move Around A Disc Golf Course
If you're a newcomer to the world of Disc Golf it can be hard to navigate a course, especially the more rugged courses we've mentioned above. But there are a few simple steps that make navigating a course a bit easier.
Find the course map: As soon as you arrive on a course, locate the course layout map. These should be easy to find, as they are usually in the form of a noticeboard detailing the layout of all the holes.
However, if your local course does not have a course layout map, you can still get a good idea of the course layout on the UDisc app. Download this to your phone to find the course map. You can even use this app to keep score of your round.
Locate the first hole and the basket: Hopefully your course has a course layout map. Take a look at that to find the first hole and basket.
Locate markers for the next hole: Move on to the next hole once the first hole is complete. You should see a path or marker that indicates where the next hole is. Keep going until you've completed all the holes! As we've mentioned, the total number of holes will be between 9 and 18. 
How Long Is Each Round Of Disc Golf?
An 18 hole round of Disc Golf usually takes around 2 hours to play, but this can differ depending on how fast you play, and what course you're playing on (for example, how big the course is). 
Generally, a 9 hole round of Disc Golf can be played in about an hour, an 18 hole round will take about two hours, and a massive 24-27 hole round will take about 3 hours. A round that is more than 27 holes will take about 3-4 hours to play.
How long it takes you to play a round of Disc Golf will also be affected by how many people you're playing with, and if you're playing the round by yourself.
While many people would consider a round of traditional golf to be an arduous process, this isn't really the case with Disc Golf.
A round of Disc Golf involves each player starting from a point on the course that marks the first hole, and then going from hole to hole trying to sink their discs in each basket in the least amount of throws.
This never takes more than a few hours, and as a lot of recreational play happens between friends and families, it's a great way to spend the day.
How Many Rounds Do You Have To Play?
When hitting the course you don't have to play a full round. The number of baskets on different courses varies, and the amount of time you spend playing is totally up to you.
You're not obligated to play a certain amount of holes, so if you prefer a shorter game, or feel like kicking back after 12 holes that's completely fine. A lot of players try to play multiple rounds everyday, but even one 18-hole round can be pretty tiring.
But if you're an enthusiastic newcomer to the game you may find yourself wanting to play more than one round, and that's cool too! The only limit when it comes to how many hours you can spend playing Disc Golf is your own schedule and the light outside.
But some players enjoy evening games, adding lights to their discs to make them easier to find in the dark. However, some parks do close when it gets dark and so when they call it a day you have to as well.
But what's great about Disc Golf courses is that most of them are completely free and open to the public.
But if the only course near you requires payment, you'll most likely be charged for the day. This certainly gives Disc Golf an advantage over traditional ball golf, where you will be regularly charged a course fee that most often only covers a round of 18 holes.
But even when Disc Golf courses do charge a fee, it's always relatively cheap and covers the whole day – or how many holes you want to play.
Where Can I Find Disc Golf Courses Near Me?
If you live near a town or city, chances are there are a lot of Disc Golf courses near you to choose from. But how do you find these courses?
It's pretty simple. The best place to start is by searching "disc golf courses near me" on Google. This will bring up the courses nearest to you and give you an idea of what's available. 
When you search for this on Google you'll most likely come across Discgolfcoursereview.com, which is an excellent resource for finding courses. Not only will it tell you where the best local courses are, but it gives you reviews of courses too.
It's packed with plenty of detailed course information, giving you a good idea of how long it will take you to play your chosen course so you can plan your day accordingly.
Of course, another valuable resource is the PDGA disc golf course locator found on the Professional Disc Golf Association's official website.