Disc golf can be a bit confusing for bystanders, watching groups of people toss plastic saucers that look like frisbees…but not to each other? Into a metal basket instead?
What started as a quirky offshoot of golf—an activity where you are trying to complete each hole in the fewest strokes (or, in this case, throws)—is now a full-fledged sport with its own organizations, courses, and an ever-growing number of enthusiastic participants.
One of the reasons disc golf has grown so much in popularity is the simple fact that it is FUN. Another reason why it is a big draw is that virtually anyone can play. This is a sport loved by young and old alike, and disc golf draws players of all skill levels. It is a great way to foster inter-generational play and a healthy activity full of strategy, movement, competition, and plenty of fresh air!
If you are new to disc golf, we will walk you through the disc golf rules and etiquette you need to know before jumping into this fun and competitive sport. By following this guide, you will be ready for disc golf in no time. Remember, it is different than traditional golf, so there is much you need to learn.
Step 1: Select Your Disc
While this may seem obvious, beginners to the sport may be wondering, "what type of disc should I buy? Can I just use a frisbee I already own? Are there special discs used just for disc golf?"
Discs used in disc golf and frisbees are NOT the same. While you can certainly use a frisbee for some initial practice at throwing, you will need to purchase a disc-specific to the game of disc golf if you plan to play competitively. A frisbee can be around 12 inches in diameter, but a disc will be much smaller, around 8 inches across. Disc golf discs are also denser than frisbees.
These discs will typically be sold in a set, with a driver, mid range disc, and putter (just as you would use different clubs in golf, based on your distance from the hole). Discs are relatively inexpensive and therefore easy to replace, but you still want to be sure you can keep up with them. Write your name on discs or use labels before taking them out to a local course, so you can easily identify them if needed and don't get them mixed up with discs of another golfer.
Step 2: Find the Nearest Disc Golf Course
Like most things in life, when trying to find a disc golf course: "there's an app for that." The Udisc app can point users to more than 10,000-disc golf courses with useful information for players, such as the course conditions, hours of availability for playing, and more.
This handy app can also be used to keep up with your scores while playing, find local events, and even measure your throws. The app is available on Google Play as well as Apple, and the organization behind the app—the Professional Disc Golf Association (PDGA)—is the official governing body of the sport.
Once you download the app, you can search for courses by zip code. This is a great feature for finding courses near your home and finding courses nearby when you are on vacation or even traveling for work. Some disc golfers will even plan their vacations around top disc golf courses and events, and this app makes it so much easier to access all of the information you need.
Step 3: Practice, Practice, Practice: Master the Basics
Understanding the game of disc golf is not difficult, especially for anyone who has a basic understanding of how golf works. But perfecting your technique can be the real challenge.
You will want to spend plenty of time simply practicing your throws and getting used to the feel of the discs.  If you are hesitant about practicing on a course in front of more skilled players, you can always use a practice disc golf basket in your own backyard as an alternative.
When you are ready to hit your local disc golf course, remember these basics of the game:
The object is to get the disc in the disc golf basket in as few throws as possible
Your total number of throws is your score for the hole
You will start from a designated tee area, and the hole will have a par designation, just as it does in golf (most disc golf holes will be a par 3)
The disc golf course will either have 9 or 18 holes
Step 4: Mind Your Disc Manners: Etiquette in Disc Golf
While disc golf is not overloaded with particularly complicated rules and etiquette, some common sense principles will apply when playing in groups or in close proximity to another disc golf player on a course.
Never throw your disc forward when another player is in front of you with their back toward you. Use courtesy and announce "coming through" to alert other players when you are approaching from behind.
The low-score winner for the hole throws first on the next hole, and all players should be respectful and allow enough space and time for others to concentrate on their throws. Just as you would not want someone hovering over you when it is your turn to throw, give those players the same courtesy in return.
Step Five: It's All in the Drive
When you step up to the teeing area and take your first fairway throw, that is called a drive. Obviously, the first throw will set the tone for how you play that hole; if nerves get the best of you and your drive is way off, it will be a challenge to recover in your next throws (but not an insurmountable challenge).
There are drivers, mid-ranges, and putters within disc golf sets, and an advanced player will generally start each hole with the driver. However, a helpful tip for beginners is to start with the mid-range or putter, even as you take your first throw. This is usually the best way for beginners to get acclimated to the game and get comfortable throwing the discs.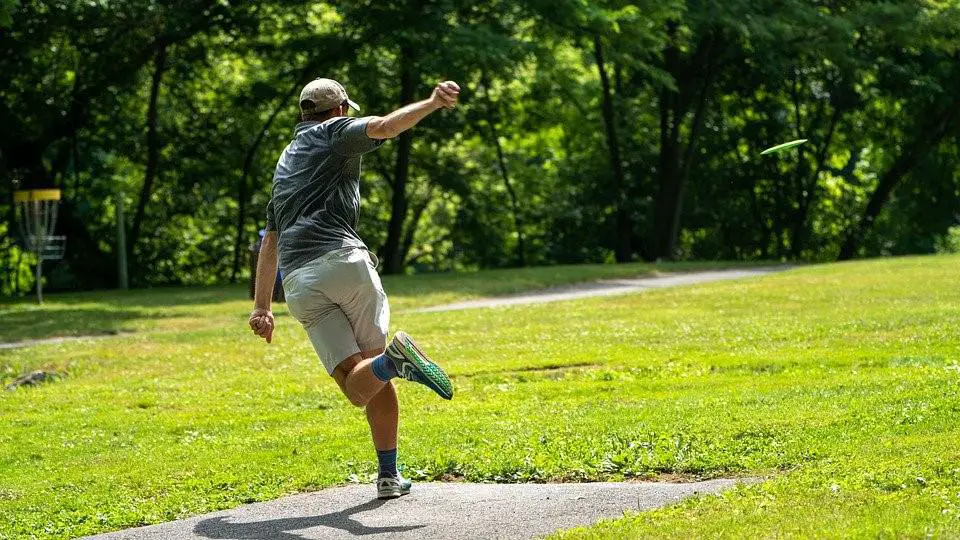 Step Six: Follow with the Approach
After the initial throw (the drive), the second shot in disc golf is the approach shot. With time and practice, you will learn the best ways to approach this shot (pun intended) and which disc to use. Your disc choice will be based on your distance from the hole.
The goal of the approach shot is to get you close enough for an easy "putt" for a final shot; however, do not save the putter for that final shot only. You can definitely use it on the approach, too.
Step Seven: Sink the Putt
Your final shot – the putt – is when you (ideally) get your disc in the hole (or basket). This is one where you are closest to the hole but should not rush. Just as you see professional golfers concentrating intently on a final putt and taking time to look at angles and slopes, you should take your time and make sure you are focused on the hole.
Once your disc is in the basket, you can leave it there to let others finish if yours is lying flat. But if your disc is entangled in the chains, you may want to go ahead and remove it for the other players coming behind you in the group.
Step Eight: Settle Up with Scores
Just as players do in golf, you will want to mark your score down after each hole. You must include all of your throws, and once you tally these at the end, the lowest score wins.
While some players still prefer to jot these down in pencil by hand, remember that the Udisc app can also help you keep track of scores.
Step Nine: Map It Out
One important tip for disc golf newbies is to use a map to ensure the best results. Scanning over a course map ahead of time will get you mentally prepped for the game ahead, and it will also clear up any confusion about a particular hole and where to start, or what direction to throw.
Step Ten: Keep It Going
Practicing and playing often will only make the sport more enjoyable as you start to improve your technique.  One way to get more involved with disc golf is to join a PDGA-sanctioned league. If there is not one in your area, you can contact the organization about setting up your own.
In time you could even find yourself competing in the Professional Disc Golf World Championships! But even if you do not have dreams of world dominance, you can still enjoy playing with friends, family, and neighbors. Disc golf is a fantastic, lifelong game that is easy to learn, inexpensive to play, and fun for everyone as long as you take the time to learn and understand the disc golf rules.