Turning up at a disc golf game as a beginner is one thing. You're not as practiced as everyone else and don't perform as well.
But turning up without the whole kit is a complete waste of time, you won't be able to play a full game, or even a decent practice round.
The solution of course is to ensure that you get yourself an excellent starter kit with all the necessary bits and pieces included.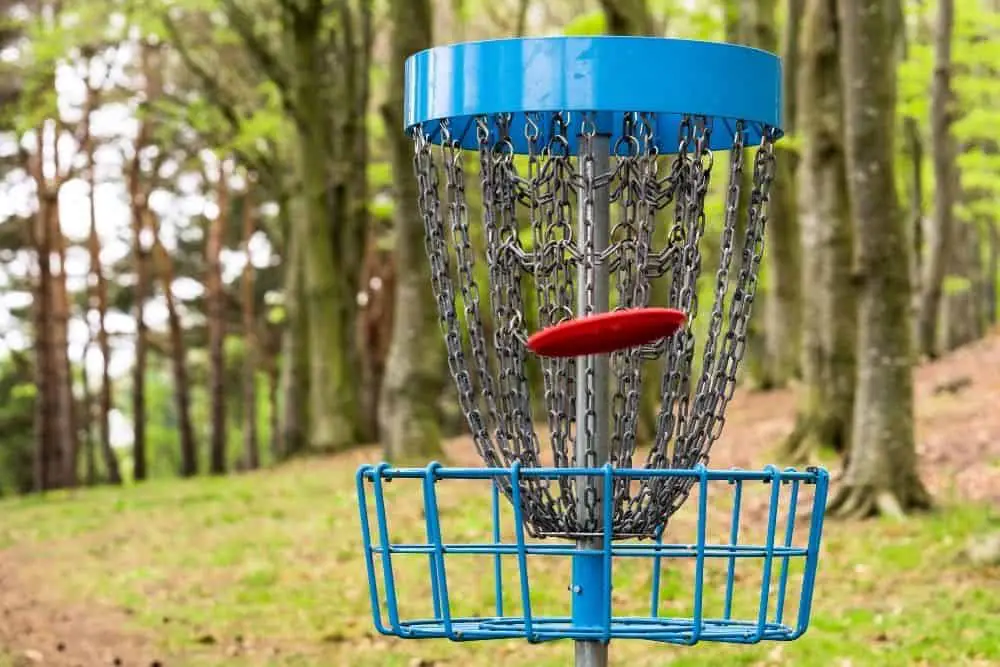 We've been checking out some of the best disc golf sets on the market, and after much deliberation we were able to put together a shortlist of our favorites, and we're going to be reviewing them for you very shortly.
But if you're relatively new to the game, you could probably use a buying guide to walk you through what to look for when buying, which is coming up after our reviews.
Then we're going to top that off with another handy section where we tackle some of your most frequently asked questions.
And without further ado…
Best Disc Golf Set
When we saw the customer ratings on this little set, we just had to see what all the fuss was about – and weren't disappointed!
After well over 3,700 individual customer ratings on Amazon, the average rating comes out at a whopping 5 stars out of 5. And customers rated it at 4 and a half stars for a number of important features. These include sturdiness, suitability for beginners, durability and value for money.
It comes from what we would argue is one of the best brands in the business. And whereas many disc golf sets often only offer 3 discs, this set includes 5 discs plus a special edition  **Stars** Logo Mini Disc for marking your shots before you throw from your lie.
It's an excellent set for beginners to the game, or for those who want to improve their game.
One of the star features of this disc golf set has to be the putter. Innova's Aviar putter is hands down one of the best in the business, and one that's proclaimed to be a consistent world champion. 
Then there's Roc3, which is great for controlled approach shots and mid-range drives, then there's the Leopard which is fantastic as a first fairway driver, and there's another fairway driver, the Teebird.
And we were also very impressed with the superfast driver, Innova's Destroyer. It's the perfect driver for a beginner to give amazing distance from that first throw.
The weights of the discs make them very easy to throw, starting at 160 grams and going up to just 180 grams. 
Pros
Phenomenal customer ratings & reviews
Comes from a top, well established brand
Features Innova's world champion Aviar putter
Features a superfast driver, the Destroyer
Also includes two fairways & a mid-range
Cons
Premium product at a premium price
Doesn't come with a carry bag
Talking about flying off the shelves (excuse the pun)!
To date, there have been well over 4,600 individual customer ratings on the Amazon website alone. And better yet, the average customer rating still comes out at an impressive 4 and a half stars out of 5. Not bad hey?
Customers rated it at 4 and a half stars for features such as suitability for beginners, durability and value for money.
But what really caught our attention was that the disc molds for this set were all handpicked by actual World Champions in disc golf. 
You get 5 discs in total, plus a Burst Mini disc to mark the shots you achieve before you throw from your lie.
The star disc in the set has to be the Judge disc golf putter, which won the 2013 disc of the year award. Then there's the EMAC Truth, which is the world champion's choice for a mid-range disc. And when you want to throw as far and as straight as possible, we can really recommend the Escape fairway driver or the distance driver. There are two fairway drivers provided, one stable one and one understandable one.
Another thing we love about this set is how the specs for each disc are all clearly labelled on the top of each disc. And this is of particular value to those looking to improve their game, because they can see an indicator for speed and turn etc. on their shots, to better determine when to use each disc. So it's great for both beginners and improvers.
The weights of the discs make them very easy to throw, starting at 170 grams and going up to just 176 grams. This makes the differences between the discs very subtle, so be sure to check the labelling of the discs before you throw them. On the flip side though, this makes for quite a consistent set which is always a plus for improvers.
One of the things we love about Dynamic Discs is how they always offer a 100% money-back guarantee, so if you're unhappy with the set for any reason, you can simply return them for a full refund. So you literally have nothing to lose by buying them.
Pros
Bestseller with excellent ratings
Discs handpicked by champions
All discs labeled with their specs
Perfect for beginners & improvers
100% money-back guarantee
Also includes a mini disc
Cons
Doesn't come with a carry bag
Premium product at a premium price
If you want to buy a disc golf set from a top brand in the industry, and you think you'll be happy enough with just 3 discs to start off with, then this could be exactly what you're looking for.
There are just 3 discs included in the set, but this makes it a more affordable set than many of those 5 or 6 disc sets. And it covers all the main types of shots.
The discs all feature clear labels and pictures, so you can see at a glance which one is which. 
Discmania has a special feature in that they use a slightly different plastic for their discs that they refer to as Active soft. It's noticeably softer than regular discs, without really losing any of its firmness. The result is that you get a more grippy feeling in your hands before you throw.
As you might imagine then, these discs are noticeably lighter than regular discs, which means that you don't need as much force to throw them the same distance. In fact, the discs weigh just 150 grams for the Sensei and the Maestro, and just 156 grams for the Magician.
The putter is called Sensei, and it's great for all kinds of approach shots and putts. It has a low profile and will fit well in any size hand.
The mid-range option is called the Maestro, and it's great for straight flights, thanks to the smooth release from the hand every single time, combined with a relatively low speed. 
Then there's the Magician. It's the driver, and will fly at great speeds and will fly very straight, thanks to its minimal turn. It's great for getting a good consistency in your shots.
For a fuller description of each discs' specs, please refer to the product page, which you can get to by clicking on "Check price". 
It's got excellent customer ratings, having earned an average Amazon customer rating of 4 and a half stars, even after well over 150 individual customer ratings. Customers gave it 5 stars for value for money and suitability for beginners, and 4 and a half stars for durability.
Pros
Comes from a top brand
Discs are grippy & lightweight
Excellent customer ratings
Sensei – low profile putter
Maestro – mid-range option
Magician – fast & straight
Cons
There are only 3 discs in the set
Now, this disc golf set offers excellent value for money, and is considerably more affordable than the disc golf sets from the higher end brands. It's perfect for those who are particularly budget conscious.
It's also a bestselling set and comes highly recommended by those who've tried it out, having earned a 4 and a half star average customer rating on Amazon, even after well over 350 individual customer ratings.
Customers rated it at 5 stars for suitability for beginners and value for money (no surprise there), and at 4 and a half stars for being giftable and for durability.
The set includes 2 drivers, 2 mid-range discs, and 2 putters. Unfortunately there's no deviation between the qualities of each type of disc, so they are effectively 2 sets, rather than a large set for use by one person. But on the flip side, it means there's enough discs here for two people to play
Each disc is colored and labelled according to type, so it's easy to identify which one to use next, which is perfect for beginners to the game.
Unlike the more expensive higher end brands, this set also comes with a dedicated carry bag to carry the discs around the course, which is super convenient  and beats routing around a huge backpack. 
The Wen Jian disc golf set comes backed by a 100% money-back guarantee, so if for whatever reason you're unhappy with them, you can claim all your money back in full, no questions asked.
Pros
Excellent value for money
Excellent customer ratings
Contains enough discs for 2
Comes with its own carry bag
100% money-back guarantee
Cons
No mini disc included
Some customers have said that they wished that they had paid that bit more for better quality discs
This has to be one of the most complete disc golf starter sets out there!
Rather than just getting the basic 3 discs, you get 6 discs altogether. And in addition to this, you also get a mini disc marker, a small towel, and bag to carry all the discs in. Not bad hey? No wonder it's a bestseller with the leading online retailers!
The discs, first of all. You get 2 drivers, 2 mid-range discs, and 2 putters. All of which are brightly colored and clearly labeled, so you can always tell which one is which, and know which one to pull out next.
All the discs are made with heavy-duty plastic. The manufacturer makes out that these make a good feel when you are throwing them, and while many customers seem to agree on this, there are those who disagree, and would prefer softer discs.  
You can choose from 3 color options for the bag, namely black, red, or blue. And the bag is excellent. It has the capacity to hold 14 to 18 discs, which is great if you later decide to add more discs to your collection.
The bag is made with heavy-duty nylon and has an adjustable soft padded shoulder strap, and there's a dedicated bottle holder, so you can keep hydrated as you play. There are also several pockets for small valuables, including a top mesh pocket and a Velcro pocket, which is perfect for housing your smartphone. 
It had good customer ratings, with over 60% of those who bought through Amazon rating it at a full 5 stars out of 5 when this article was written. 
Amazon occasionally has deals on this particular disc golf set, simply click on "Check price"  to see if there's a deal on now. But it's available at a very reasonable price, even if you don't manage to catch a deal. 
Pros
Includes 6 discs rather than 3
Comes with a great carry bag
Towel and mini marker disc
Great customer ratings
Excellent value for money
Cons
Doesn't come from a top brand
Buying Guide
As promised, here's your buying guide!
What Discs Do You Need?
For a whole set,  At the bare minimum you will need at least one driver, at least one mid-range disc and at least one putter.
Number of Discs
You may have previously read that you only really need 3 discs to play disc golf, and technically that is true. However, we would argue that put yourself in a better position if you have a wide range of options to go for each shot you take. Some players, for example, take more than 20 different discs onto the course.
Weight of the Discs
The lighter the disc you play with, the easier it is to throw and the further you can throw it with the same force. So, with this in mind, we usually recommend that you go for discs that are under about 200 grams in weight.
Color of the Discs
It's very handy to have discs of different colors. That way you can see at a glance which disc is which, and you aren't going to get caught out using the wrong piece of equipment. Bright colors are best because they are more visible during the game.
Carry Bag Included
In our shortlist of top picks, we tried to include disc sets that come with a carry bag included. If you choose to get a set that doesn't come with a carry back, we would recommend investing in a disc golf backpack, in which case you should check out our other article, Best Disc Golf Backpack
Brand
Some brands of disc golf discs outperform others and achieve better customer ratings and reviews. We were sure to include some of the top disc golf brands in our shortlist. These include the likes of Innova, Dynamic Discs, Discmania.
Value for Money
Disc golf sets can really vary in price, with some costing as little as $16, and others costing as much as $65. This is why we recommend checking the prices as you go along and learning what your money can buy you. That way you can make a good, well-informed decision about how much your budget should be.
Customer Reviews
When shopping for anything online, it's always good practice to make a note of customer ratings and reviews. These can be very telling, and can give an immediate overall impression of the products and how they actually perform in real life.
On sites like Amazon, we would recommend going for products that have an average customer rating of at least 4 stars out of 5.
Answers to Your Most Frequently Asked Questions
What is a good set of disc golf discs?
We would argue that the best set of disc golf discs is our number one pick, the Innova Disc Golf Starter Set. It comes from one of the best brands in the industry, and features 5 different discs rather than the usual minimum of 3 discs that you often get in such sets, including a driver, a putter, 2 fairway discs and a mid-range disc.
Moreover, these are excellent award-winning discs that have been carefully selected. And you don't just have to take our word for it, if you look on Amazon you will see that this set has earned a full 5-star rating from customers.