We're guessing that the phrase "beginner drivers" doesn't exactly fill you with much excitement. We get that you probably want to achieve as much distance as possible, but as a beginner, using a high-speed driver is more frustrating than fun.
They're hard to throw and hard to control, and while we all like a challenge, starting with a beginner disc that is easy to grip, release, and can achieve distance will make for a more satisfying game. Plus, it helps you learn control. Winning is fun of course, but learning and improving is just as fun when you're trying out a new sport. 
The best disc golf drivers are ones that are suitable for all levels of players. They shouldn't be underestimated, and as you will be playing with them for years to come, they can be a great investment. 
Below, we'll go into more detail about what makes a great beginner disc golf driver and how to find one, as well as the best four on the market right now.
What to look for in a beginner disc golf driver
Grip:  The best beginner drivers have smaller rims that are easy to grip. They should be comfortable to use, and you should be able to get all your fingers under the disc for a good grip. This will help you achieve greater distances.
The rims on a high-speed driver are three times the size of a beginner driver and are awkward to grip. This makes it even more difficult to achieve optimal flight.
Release: The timing of the release is just as important as the grip when it comes to accuracy. Discs with smaller rims will be easier to hold onto until the time is right to release it from your hand right down your line.
Meanwhile, early releases are more common with a wider rim disc and they tend to be more inaccurate.
Distance: One of the most satisfying things about disc golf is watching that long flight down the fairway turning and fading towards the basket. So it's pretty disappointing when that doesn't happen. Wanting to improve their distance is one of the biggest things new players want to improve on.
The best beginner discs will turn over for you if you give them a good throw, and your distance is sure to improve in no time.
Some beginner discs will be labeled as Fairway Drivers rather than Distance Drivers, but even in conditions such as tailwind and even despite various course layouts they should get you very far.
Good brands: Just like with most things in life, when you buy something, it's advisable to go for a good name. When looking for a good beginner disc, definitely seek out the opinion of more advanced players and fellow beginners.
You'll find the best brands in sports shops, online, and they're often sold at events and tournaments.
While there are plenty of great brands to choose from that may not be popular names yet, familiarity is important for you to feel confident that you're making a safe, reliable purchase. Plus, these brands are popular for a reason.
The more you get into the sport, the more confident you may feel in buying from more obscure brands. But exploring brands can wait until you've gained more experience, the most important thing to do right now is learn the sport and flight mechanics.
A classic straight flying fairway driver, the Leopard by Innova is great for tailwind, anhyzer, and roller shots. You'll often find Leopards in starter packs due to their reliable flight and limited fade, and as a beginner, you may find that you can throw the Leopard further than any other disc. Meanwhile, more advanced players may appreciate its higher glide and turn. This makes it great for sneaking around obstacles and manipulating the flight pattern.
Speed: 6
Glide: 5
Turn: -2
Fade: 1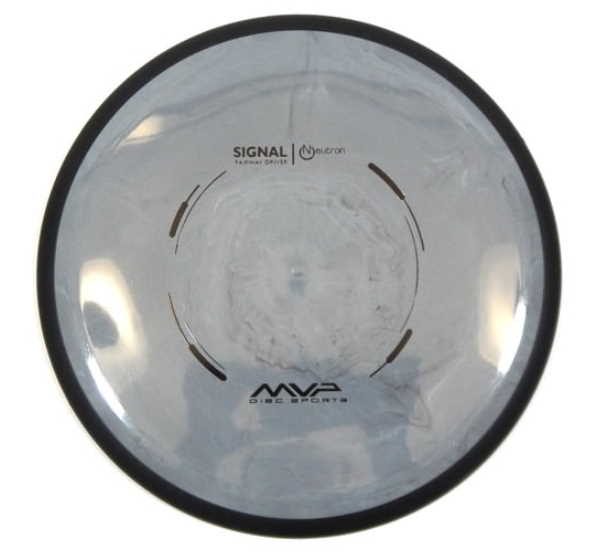 First introduced in the 2016 MVP Circuit Player's Pack, the Signal is a great disc for beginners thanks to its low-speed and incredibly understable nature.
If you're a higher power thrower, you'll find the Signal great for hyzer-flips, heavy understable turns and tollers. Meanwhile, MVP's 'stabilizing GYRO effect' gives the Signal maximum control, making it perfect for any beginner golfer.
Speed: 6
Glide: 5
Turn: -2
Fade: 1
The Innova Sidewinder is a great disc for any beginner who wants to improve their game. It's a speedy, distance driver that turns over quickly, and has a light fade at the end. What's more, it's a classic understandable control driver.
If you've experienced issues with other distance drivers dumping on you early on, then the Sidewinder will definitely help you to improve your form. Plus, Innova's lightweight 'StarLite' plastic makes this disc a great choice for kids, beginners, and low power throwers looking to get more distance on their drives.
Speed: 9
Glide: 5
Turn: -3
Fade: 1
In the early days of disc golf, Millennium's JLS was the best selling disc golf driver on the market, and it's easy to see why. It's a medium speed fairway driver that behaves more like a distance driver and feels like a midrange disc.
The 'LS' stands for 'Long Straight.' The driver has a high turn and fade, which allows you to place the JLS wherever you want it to go. The JLS is well suited to beginners that struggle to keep fairway and distance drivers in the air.
Speed: 8 
Glide: 5 
Turn: -2 
Fade:2
Conclusion
We're sure these discs will help you achieve more distance, and make your disc golf games more predictable. However, finding the best disc for you involves trying a few out. We even recommend asking to try out the discs of others if you're learning with a group. 
Throwing your disc and learning flight mechanics are also very helpful in finding the best disc, and remember to always be open to recommendations from others. You've got nothing to lose!