Most sports have shoes that have been designed with that sport in mind. Disc golf, however, is not like most sports. The sport of disc golf is just recently gaining popularity and no brand has yet designed a shoe specifically for disc golf.
Luckily for us disc golfers, there are some great shoes out there that just happen to have all the right attributes to be perfect disc golf shoes. In this article I'm going to tell you what the single best pair of shoes is for disc golf, then we're going to talk about some alternate options that are also great shoe choices for both men and women.
What Are the Best Shoes For Disc Golf?
Disc Golf Shoes For Men
Disc Golf Shoes For Women
Shoes that have been designed for hiking or running on tough terrain make the best disc golf shoes. The Terrex Swift R2 GTX by Adidas are currently the best shoes for disc golf. They're worn by many professional disc golfers including Paul McBeth, Nate Sexton, James Conrad, Simon Lizotte and many others.
#1 Recommended (Men's) – Terrex Swift R2 GTX
As far as I'm concerned, the Terrex Swift R2 GTX covers all the bases. They're comfortable, warm, water resistance, durable and grippy. They are absolutely perfect for disc golf, which is probably why so many professional disc golfers have adopted this shoe. Like I mentioned above, take a close look and you'll be able to spot these shoes being worn by Paul McBeth, James Conrad, Simon Lizotte, and many others.
I've personally been wearing these shoes for over a year and I can say that they really hold up well. I don't see any wear on the bottom of the shoes and I see a huge difference going up and down steep inclines. These shoes grip the dirt like crazy. They've also kept my feet nice and dry on a number of wet outings which is really nice. Nobody likes to play with waterlogged feet.
All in all, these are just down right great shoes to play disc golf in. If you're looking for a new pair of shoes for disc golf, I strongly recommend that you try out the Terrex Swift R2 GTX. This leaves only one question left to be answered about this shoe: Where can I get them? Let's answer that next.
Where to Buy the Terrex Swift R2 GTX
I always recommend InfiniteDiscs.com first. Buying from a company like Infinite Discs is a great way to give back to the disc golf community and keep the sport growing, however, their supplies are somewhat limited, so if you can't find your size, or the color option you like, you can also find these great shoes on Amazon.com which is super convenient. I've provided the links to both so you can easily jump straight to the page you need.
Other Great Shoes for Disc Golf
There are many other shoes that are also great for disc golf. If the Terrex Swift R2 GTX isn't quite your style or you're just curious to see what other options are out there, check out the list I have below showing the best choices for both men and women for disc golf shoes.
Keep in mind that shoes designed for other sports such as basketball for example, could work for disc golf too. Stay clear of shoes designed for golf, baseball, and soccer though because they usually have cleats which will get in the way on the tee pad.
Below is a list of all of my Runner-up choices for disc golf along with details for each pick.
Best Men's Disc Golf Shoes
#2 Recommended (Men's) – Targhee II Hiking Shoe
| | | | |
| --- | --- | --- | --- |
| Model | Water-Resistant | Material | Best Place to Buy |
| Targhee II Hiking Shoe – Keen | Yes | Nubuck Leather | Amazon.com |
#3 Recommended (Men's) – Speedcross 5 GTX
| | | | |
| --- | --- | --- | --- |
| Model | Water-Resistant | Material | Best Place to Buy |
| Speedcross 5 GTX – Salomon | Yes | Anti-debris Mesh | Amazon.com |
#4 Recommended (Men's) – Moab 2
| | | | |
| --- | --- | --- | --- |
| Model | Water-Resistant | Material | Best Place to Buy |
| Moab 2 – Merrell | Yes | Suede, Leather-mesh Combo | Amazon.com |
Best Women's Disc Golf Shoes
#1 Recommended (Women's) – Terradora WP
| | | | |
| --- | --- | --- | --- |
| Model | Water-Resistant | Material | Best Place to Buy |
| Terradora Waterproof – Keen | Yes | Mesh and Synthetic | Amazon.com |
The number 1 pick for women's disc golf shoes is the Terradora Waterproof hiking shoes. These are the same shoes that Paige Pierce has worn for a long time and they seem to be working great for her.
These great shoes come in a bunch of different color choices and they also come in low and mid versions. Here's both so you can compare the two and see which you like best. The lows on Amazon.com. The mids on Amazon.com.
#2 Recommended (Women's) – WT 410 V5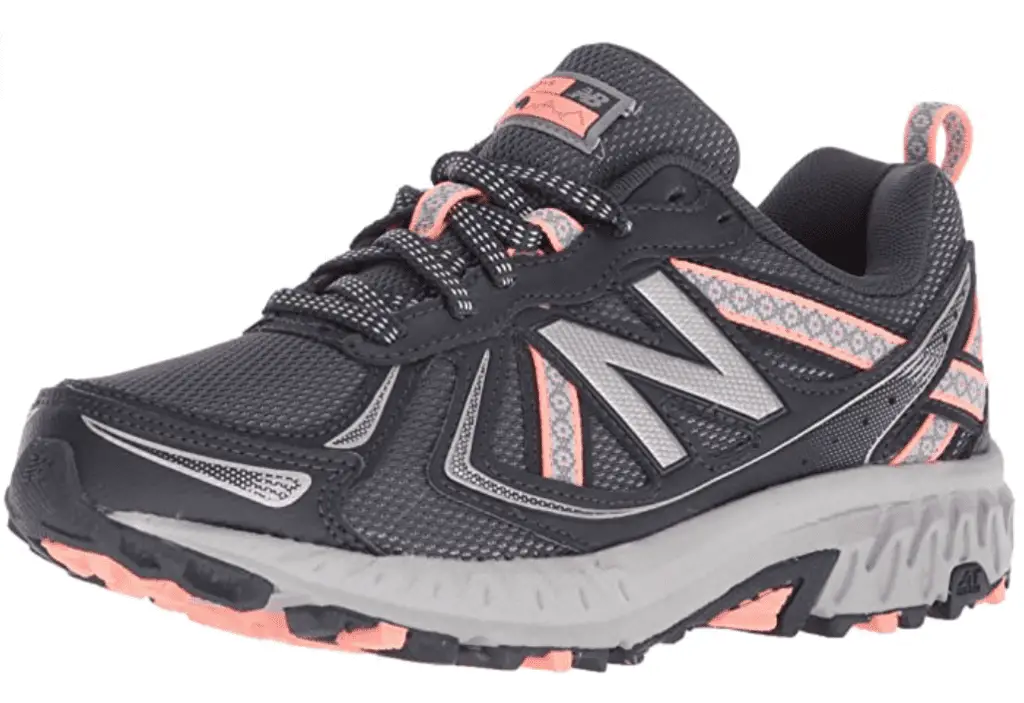 | | | | |
| --- | --- | --- | --- |
| Model | Water-Resistant | Material | Best Place to Buy |
| WT410v5 – New Balance | No | Synthetic | Amazon.com |
What Features to Look For in a Disc Golf Shoe
While all of the shoes listed are excellent choices, there are plenty of other brands with shoes out there that could do the job just the same. There are a few key features that a shoe should possess that will benefit your disc golf performance. Knowing what key features to look for will help you on your quest to find the best disc golf shoe for you. 
Grip
Let us start with the most important feature, grip. A shoe with a good, strong grip will help you when your throwing on or off of the tee pad. Consider the types of courses you normally play can help in finding the right grip level for you. Looking at the bottom of the shoe, you'll notice the tread and every shoe is going to have a different tread. Rough terrain courses with tree roots, mud, snow, etc. are going to require a shoe with a more pronounced and deep tread, looking similar to a hiking shoe. Shoes labeled as athletic or running shoes with smaller, less defined treads would work fine on more maintained or open courses where the terrain is more stable. 
Weight
The weight of the shoe is just as important. When you are out on the course, you easily walk several miles so the weight of the shoe needs to be considered when you're deciding on a shoe. What weight though depends on the person. Some prefer lightweight because its easier to walk in and won't be too heavy on your feet so it allows more flexibility when trying to backhand whereas a heavier shoe might get in the way. Other people prefer a heavier shoe because they need the extra support it provides. A heavier shoe usually comes with more ankle support or thicker soles which makes walking over rough terrain more comfortable. 
Support
Next, you need to make sure the shoe has adequate support for your feet. Again, this differs from person to person. Really lightweight shoes aren't going to have much foot support in them. Maybe you had an ankle injury and you need a sturdier shoe with added ankle support or maybe you want a shoe with thicker cushion so you don't feel every branch or tree root you climb over. Whichever you choose, make sure it sure you will be comfortable walking around in them for several miles at a time, possibly over different terrains. 
Durability
Durability; you want these shoes to last especially after paying a hefty price for some shoes out on the market. If you are out on the course a couple times a week, that's thousands of steps, tens of miles, and who knows how many backhand drives. A cheap $20 pair of sneakers won't last long after all of that. You want shoes you can trust to hold up for many months or even years and not worry about if you're going to wear a hole in the sole or the stitching comes apart after a couple of rounds. 
Waterproofing
Last but certainly not least is waterproofing. Unless you're playing in a desert, you're going to want a shoe that has some kind of waterproof protection. Believe me, it comes I handy whether you're playing in snow, rain, mud or even in the early morning dew. It helps having your feet dry and comfortable during your round because wet feet make it uncomfortable and even painful to play and no one wants that. There is a slight downside however. Waterproof shoes are usually made with a thicker material so ventilation can be an issue for some. If you're playing in a hot or dry climate and don't want to play a round with sweaty feet, then you might want to pass on the waterproof shoes and choose something else that has a lighter material allowing for better air circulation that will keep your feet cool and dry. 
Price
The sport of a disc golf itself is not an expensive sport. It is only as expensive as you make it out to be since you, and only you, are the one using the equipment or gear you purchase. Everyone has a different budget and with the wonderful world of online shopping, you can find a shoe that works for you in the price point you need it to be in.
Adidas, for example, created the Terrex series with consumer cost in mind.  All of the shoes in the series are of good quality so the entry level shoe might still be costly to some. The entry level Adidas Terrex AX2R is priced at $74.99 on Infinite Discs website. The popular Terrex Swift R2 GTX that Paul McBeth and others have advocated for, is priced at $119.99. The most expensive shoe in the Terrex line offered by Infinite Discs is the Terrex Skychaser XT GTX, and that comes with a $159.99 price tag. Obviously, the more bells and whistles you want in a shoe, the more expensive it will be. For a good quality shoe that you only want to buy once a year, if that, be prepared to spend at least $40. It will be money well spent and your feet will thank you. 
Style
Everyone has their own unique style so choosing the right style of shoe for you is just as important. Maybe you like the look of a hiking boot rather than the neatly designed athletic version. Perhaps you play in a lot of dirty or muddy courses and want a dark colored shoe that is easier to clean and maintain or maybe you enjoy bright and unique color combinations that just make you happy. There are plenty of styles and colors to choose from, so you should have no problem finding a design you like.
Most Popular Shoe Brands For Disc Golf
Let us begin with taking a look at the top brands that are favored in the disc golf community. The most popular brands among disc golf players are Adidas, KEEN, Salomen and Merrell. Each brand has several shoes to choose from at different price points that would benefit your disc golf performance. 
Adidas
The top brand among most pro players is Adidas, specifically the Terrex Series. You can see Nate Sexton, James Conrad, Simon Lizotte, Paul McBeth and many others sporting the popular Adidas Terrex Swift R GTX. McBeth, five-time World Champion and current top rated PDGA male player, had Adidas as one of his sponsors for several years. Infinite Discs, one of the top disc golf retailers, sells the Adidas Terrex series and only the Terrex series due to their performance and popularity. Keep in mind that they don't sell any other brand of shoes, that's a testament to how good the Terrex line is. 
The Terrex series are very well-made lightweight shoes and are built to last. Very durable mesh material provides comfort while walking over rough terrain for several miles around the course. The rubber sole provides great traction and grip on different types of surfaces. Another popular feature is that they are water resistant using their Gore-tex waterproof membrane, so winter snow or summer rain will be not be a problem for these shoes. 
Keen
Another favorite brand is KEEN. Another five-time World Champion and the current top rated female PDGA player, Paige Pierce, has been an avid fan of the brand for many years and they are also one of her sponsors. Beginning in 2016, KEEN has partnered with the Disc Golf Pro Tour and was named the Official Footwear of the Pro Tour. They provide shoes as raffle prizes to raise money for charities as well as sponsoring OB walls in pro tour events. 
The most popular KEEN shoe among disc golfers is the Targhee II Hiking Shoe. This sturdy and comfortable shoe was built to last as it is made with waterproof leather. Combine that with the hydrophobic mesh lining and your feet will stay dry the whole round. Its 4mm multi-directional lugs and rubber outsole allow for a great grip on any surface. Being that they are made with leather, they are on the heavier side so keep that in mind.
Salomen
The Speedcross 5 Gore-tex shoe by Salomen is known for its traction among the disc golf community. A very durable, long lasting option that is still lightweight. This is another shoe option made with Gore-tex waterproof technology helping keep your feet dry. Made with anti-debris mesh material to help keep some of the dirt off of the shoe and it's Contagrip rubber outsole has deep, sharp lugs, similar to cleats, allowing for great grip on different surfaces. However, the deep lugs could be a problem for some on concrete surfaces depending on how you're teeing off, so keep that in mind. 
Merrell
Merrell's Moab 2 Waterproof Hiking Shoe is another popular choice among disc golfers. This shoe in particular was made for tough terrain and rocky surfaces with its hiking traction support. The shoe comes with 5mm lugs providing a great grip and an EVA footbed allowing for a comfortable experience while hiking around the heavily wooded courses. Durable leather uppers combined with mesh lining will help keep moisture away but these shoes are not water resistant. 
Top Disc Golf Shoes for Women
As for women's disc golf shoes, a top contender is New Balance which is well-known as a hiking and trail running shoe brand. Their WT410v5 Trail Running shoe is a popular choice among female players. This lightweight shoe made with mesh material allows for good ventilation keeping your feet dry and it's EVA midsole cushion will keep you comfortable while you're out on the course. The short 2mm all-terrain tread allows for great traction and grip for all surfaces. 
Earlier I mentioned KEEN as the brand of choice as well as a sponsor for Paige Pierce. Pierce has been spotted wearing their Terradora Mid WP hiking boot. Specifically designed with women in mind, it is a lightweight yet sturdy boot so it can be worn on any terrain. Made with a removable EVA footbed and a cushioned ankle panel, it provides great support and yet gives you the flexibility needed on the course. Add in its water-resistant, breathable mesh lining and your feet will be comfortable and dry no matter how long you are on the course. 
Honorable Mentions
Obviously, these brands are not your only options. They are just widely accepted as the top contenders because they have proven time and time again how good their shoes are. With that said, some pro players use other brands with no problems so let it be known that the shoe does not make the player, but it can help. Nike, the top selling shoe brand for many years, is the shoe brand of choice for the likes of pro players Ricky Wysocki and Calvin Heimburg, current PDGA ranked #2 and #3 respectively. Then we have the fourth ranked PDGA player right now, Eagle McMahon, sporting the brand Vivobarefoot and more specifically their Magna Trails shoe. 
The Bottom Line
So, you can see that there is a lot to consider when choosing the right disc golf shoe for you. When choosing your discs, you consider everything from feel and weight to flight numbers and colors. Now you can expect to go through the same process when choosing the right shoe for you.
It's tough to make a choice, especially since these shoes may not be available for you to try on in person. That's why I've done the research for you and can say with confidence that if you stick to one of the shoes on this list, you will have a great pair of kicks that will serve you very well on the course.