Midranges play an essential role in any disc golf bag. They are used for shorter drives, long approach shots, and a wide range of different scenarios. There is huge variety of midranges to choose from, each with its unique characteristics. In this article, we will be looking at understable midrange discs.
Understable midrange discs tend to turn to the right and fade back left (when thrown right-handed backhand) resulting in a straight shot overall.
Midranges are a great choice for beginner players because they tend to require less power to throw properly. Higher glide models, like most of the recommendations in this article will also be able to fly farther without a ton of power.
Understable midranges are especially good for beginners because of their straight flight paths. They are also easy to turn over, which more advanced players will appreciate when going for hyzer flips and other technical shots.
My Top 5 Picks
Now that you are excited about adding an understable midrange to your bag, what should you look for? Here are our top 5 picks for best understable midranges:
Below I'll be linking to each disc that I'm recommending. I'll provide links to both InfiniteDiscs.com and Amazon.com. Amazon is highly convenient and that's awesome, but I would encourage you to take a look at InfiniteDiscs.com as well. Buying from their store is supporting a company in the disc golf industry, which in turn, helps the sport! =)
1.    Discraft Comet
About the Discraft Comet
The Discraft Comet is the perfect beginner midrange driver. It is straight flying with plenty of glide. With a turn rating of -2 and a fade of 1, the disc is only slightly understable. The resulting straight flight path makes it comfortable for beginners to throw. The glide will also make it easier to get some distance if you are just starting out. With a speed rating of 4, it is relatively easy to handle.
More advanced players will appreciate the reliability of this disc. It will give you consistently straight shots but can also hold a slight turn. It is popular in the woods because it goes where you throw it.
The Comet is great because anyone can pick it up and get a decent throw out of it. As you get more advanced, you can try throwing it at higher speeds and get a good range of shots out of it like hyzers and flips. It gets you to focus on your technique and will grow with you as a player.
2.    Westside Discs Tursas
About the Westside Discs Tursas
The Westside Discs Tursas is another straight-flying midrange. Like the Comet, it is only slightly on the understable side. That, along with its high glide, means that it will be easy to throw and get a good distance out of. This is another great option for beginners or anyone looking for a reliable midrange.
It is known for being good for turnover throws. It could easily become your go-to utility disc. It will come in handy in so many situations. Its reliability makes it helpful in the woods with consistent shots. It can also handle more technical throws.
The thing people comment on most is the glide. Without a lot of power, the thing will still go and go and go.
3.    Dynamic Discs Warrant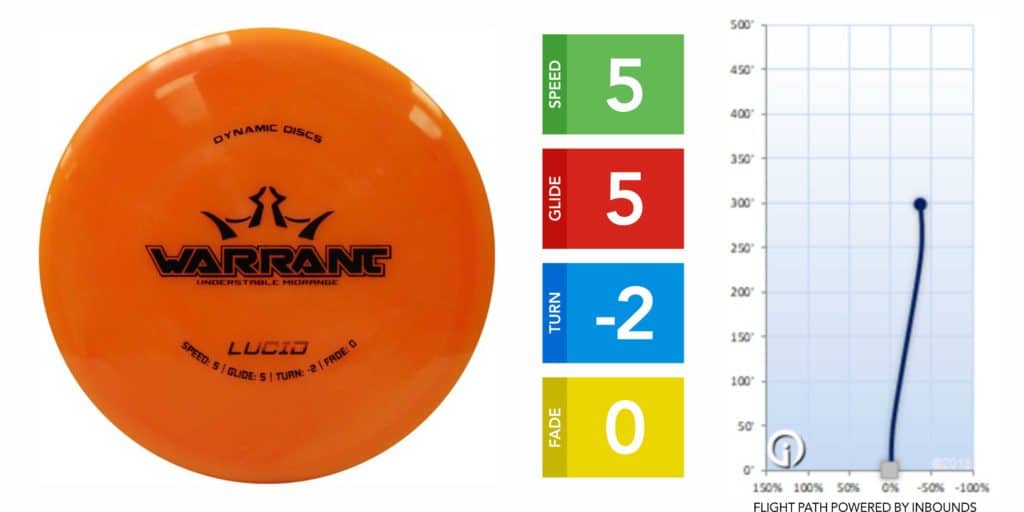 About Dynamic Discs Warrant
The Dynamic Discs Warrant is another straight flyer with a lot of glide. It is slightly more understable than the first two on our list but is still towards the neutral end of understability. With a low-speed rating and straight-flight path, it will be a good disc for beginners.
More advanced players will be able to take advantage of the Warrants ability to hold an anhyzer angle without flipping or rolling. It will be your go-to for gradual right turns for right-handed backhanders.
One thing you will notice about the warrant is how good it feels in your hands. While some other understable midranges have rims that can make for a slightly uncomfortable power grip, the Warrant is known for being comfortable to grip.
4.    Innova Panther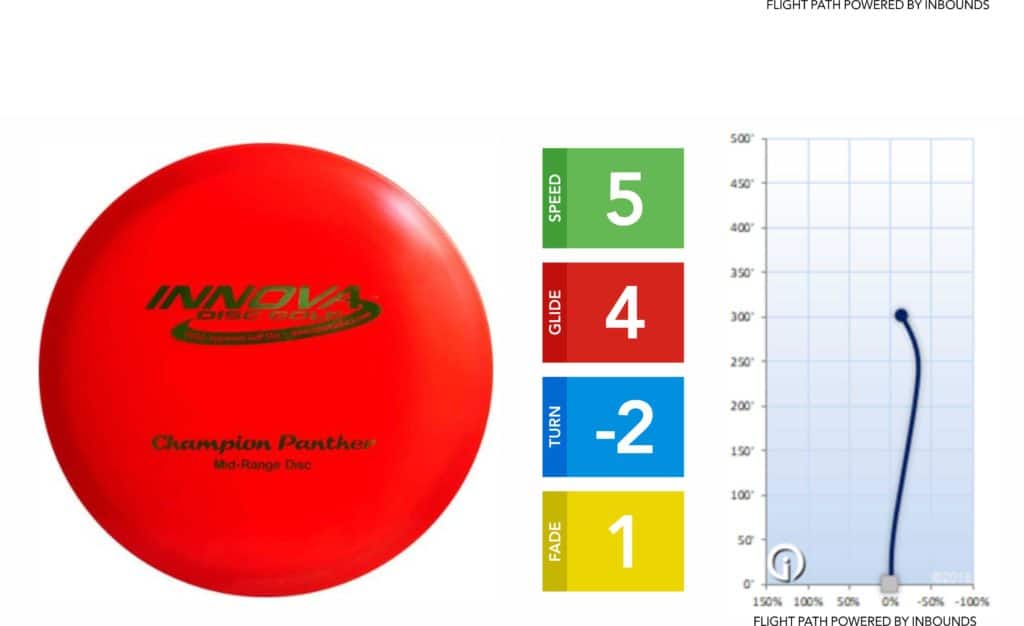 About the Innova Panther
The Innova Panther is a slightly understable midrange. It offers a straight flight path and is great for learning to throw turnover shots. It will get you decent distance but has slightly less glide than the Comet and the Tursa.
It will come in handy for controlled shots and is useful for tight fairways or wooded areas. It can be versatile holding its angle. It can be unforgiving at higher speeds, if you have bad form, which is part of what make it so useful for learning with.
The Panther may become a constant in you bag due to its reliability and versatility. A new player will appreciate the straight flight and distance you can get at lower speeds. More experienced players will enjoy the versatility of the disc and the way it holds an angle.
5.    Latitude 64 Fuse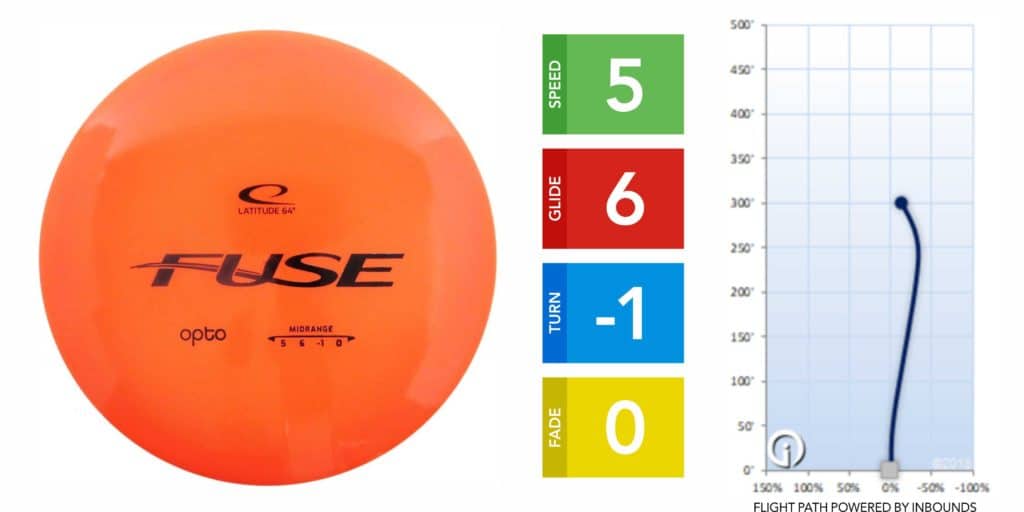 About the Latitude 64 Fuse
The Latitude 64 Fuse is the highest glide midrange on the list. This is probably partly due to it being a larger than average disc. The disc is also more to the neutral side of understability. The combination means that beginners should be able to easily get a long drive out of the Fuse without requiring much power.
This disc is known for its versatility. It will give you a stable flight path to around 300 feet. It will also hold an anhyzer curve with little fade at the end.
The Fuse does not forgive poor form at higher speeds. It will hold the line that you put on it. This make it great for turnover shots. This is another one that is easy for beginners, but also rewards more skilled players with the way it handles more complex shots.
When to Use an Understable Midrange
An understable midrange is an essential because it is useful for so many different scenarios. To start off with, they are reliable discs for getting straight shots. If you are a beginner, or just looking for something reliable, they will keep you on the fairway and get you through the woods.
They are great drivers for when you are starting out. Many do not require a lot of power to throw far because of how well they glide. If you are just starting out in disc golf, you will probably want to start with one of these off the tee to develop your form and technique before moving on to more challenging drivers.
Understable midranges are useful for more technical shots where you want something to take an angle and turnover. For instance, if you want to pull off a hyzer flip, or to throw an anhyzer at lower speeds.
When Not to Use an Understable Midrange
If you want to throw with a lot of power, understable discs may prove a bit unwieldy. They can do some interesting things at higher speeds but won't give you the smooth flight path that they're known for.
In high wind environments, you will struggle to get an understable disc to do what you want. They are designed to react strongly to the air forces acting on them, which is what gives them such a nice flight pattern, but also makes them hard to use in the wind.
Do not expect them to come down quickly. The high glide means they can keep going well, even without a lot of power. Because of this, you can easily overshoot the basket on your approach.
In the above scenarios, try reaching for an overstable midrange. Check out our recommendations in The Best Overstable Disc Golf Midrange Drivers.
How Understable Midranges Can Help Bring Finesse to Your Game
In disc golf, finesse refers to when a shot relies on technique rather than power. You will commonly hear players being referred to as either finesse or power based on which approach they tend to use most often.
Having power may get you to the basket faster, but finesse will help you stay on course. That is why there are plenty of players who don't have super long drives and are still great at the sport. Learning to play with finesse will help you get out of a lot of tricky situations and shave throws off your game.
Understable midranges are great for adding more finesse to your game because they are easy to throw and because their understability means that they will take the angle you are trying to throw and turnover more easily. These characteristics make them great for learning to shape your shots.
The Best Understable Midranges
Understable midranges are an essential part of any arsenal. They are great for beginners who are learning to drive and need something that will reliably go straight. They are perfect for more advanced players looking to land some technical shots like a hyzer flip or a roller.
A good understable midrange will grow with you as you advance as a player, revealing more of its potential as your technique develops.
With so many options out there, you are sure to find an understable midrange that works for you. We have recommended a few of our favourites in this article and think that you will love them to.
Like with any kind of disc, the best way to find what works best for you is to get out there and put in the field work with some different options. So, get out there and have some fun.