When playing disc golf, one thing that you can be certain of is a missed shot. Often you might have overcompensated on a throw and found that your disc has overshot its intended target by a few hundred yards. However, on the other side of your hoop might be a pond into which your disc is now unhelpfully stranded.
However, luckily for you, help is at hand. Or rather, at the end of your hand. Having the perfect retriever for your disc golfing abilities is perfect for getting it back and not having to spend any more money on more discs.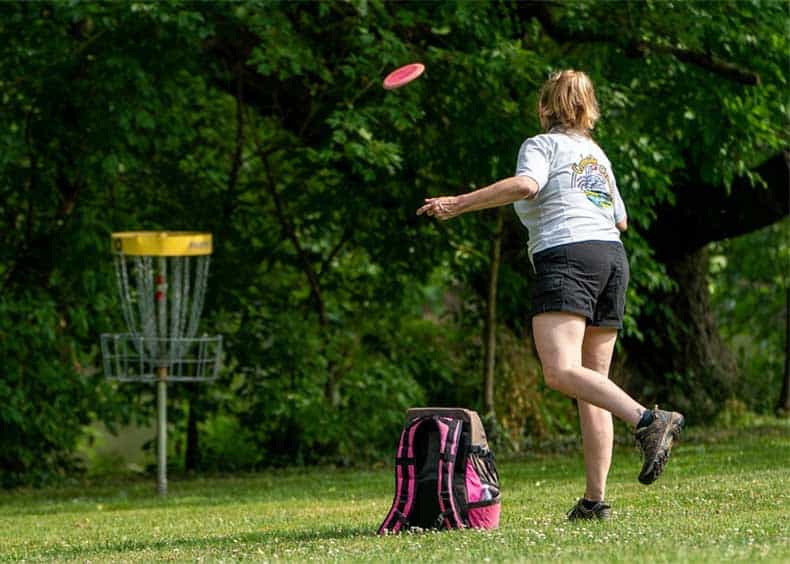 This is what the primary use of a disc golf retriever is, having the ability to be able to pick up your disc and not having to spend any more money on having to buy new discs. This can potentially be an expensive hobby, so why bankrupt yourself when you are just getting the hang of the sport?
If you are more of an intense thrower of golfing discs, then you can be sure that eventually your discs will end up stuck in a tree. One of the easiest methods of getting them is by using one of these retrievers, which usually has an extendable arm.
But where can you find the best disc golf retrievers? What features should your metal claw have to make sure that you'll grasp the disc from the branches nine times out of ten? What is the best material for a disc golf grabber? How much would you be expected to shell out for one of these handy tools?
Well, disc golf players will no longer need to worry, as we've got a list of some of the best discs currently available on the market. We also have a buyer's guide that will help you to discern between the best and the worst disc golf retrievers, with some frequently asked questions guide that will hopefully alleviate some of your disc-based anxieties.
List Of Best Disc Golf Retrievers
This first retriever is made from a sturdy metallic material that will certainly be able to retrieve any disc from pond, stream, mud or high up in dry tree branches. The claws are very slender, so they should be able to get between the smallest of gaps – introducing the Hive Disc Golf Accessories Disc Claw Retriever.
These golfing discs are often used to retrieve discs from sand or dirt, with holes built into the grabbing claw to avoid the buildup of any sand or muck that might get stuck in the grooves. Having a machine that will be able to clean itself will be very important for maintaining the machine's overall functionality.
This disc does the job of sifting out the silt, which is especially important when trying to get discs from the bottom of a pond or river. This can fold up into a compact unit, which makes it great for storing in your disc golf bag. This is a must-have tool for disc golf lovers the world over.
Pros:
This is one of the best disc golf retrieval systems that you can find on the market. It comes with hundreds of glowing reviews that have praised its durability, performance and reliability.
This comes with a capped-off string that will make your disc retriever extra safe – you could even give this to a child to use.
This claw is very well equipped and can be used in a wide range of different scenarios, including sifting discs from the bottom of a particularly silty riverbed.
This grabber is very easy to use, all you have to do is hook it around your disc and pull the trigger. Even children and teenagers could use this one safely.
The price – this comes very cheaply, so if you have to spend a lot of money on other accessories for your disc golf game and want to save some cash, then we would recommend buying this one.
Cons:
Some users have complained that this retriever is not always 100% reliable and might take a few goes to pick up your discs from a muddy bog or up in a tree.
This next disc golf retriever is one of the easiest to use, with a quick-release trigger that you can use to quickly and effectively get your disc from the nearest tree or from out of a murky swamp. This hook is made from stainless steel, which is both amazingly durable and resilient even to the worst weather conditions – introducing the InZone Disc Golf Kwik-Stik XL Retriever.
This is a great tool for using in your outdoor disc golf games, giving you everything that you'll need for blustery winds, which might be the cause of your disc getting up in the tree in the first place. You can retract the shaft of the stick up to 18 inches, which is crucial for getting items at great distances.
This hook is one of the most durable on the market, you can use it for up to 3 years before it starts to degrade. This is very user-friendly, you can give it to a teenager with no experience of use and they will still be able to get to grips with the working mechanism very quickly.
Pros:
This piece of equipment comes very highly rated by Amazon users, which really is a testament to this product's versatility and hard-wearing design.
This is made from stainless steel, which is great for use in the water. Having something that will not rust because of adverse weather conditions is crucial for the longevity of your disc grabber.
This is perfect for outdoor use, not only is it hardy, but it can stay firm and straight even in extremely adverse weather scenarios.
You can use this one to navigate trees and branches too, so if your disc does go flying up in the air, then you won't have to worry about getting it down quickly and resuming your game.
The price – this unit comes with a wide variety of features for very little money. If you are only a casual disc golf player and want to save money on accessories, we would certainly recommend this model.
Cons:
Some users have complained that after frequent and intense use that the shaft of this one can start to come apart.
This next disc golf retriever is very similar to the last model, except that this one has a hooked appendage at the end. This can give you that added advantage for snagging your disc out of a clutch of nettles that might otherwise claim your disc for its own. You can't remove the frame head, which makes it very durable – introducing the InZone Disc Golf Kwik-Stik XL Hook Retriever.
You can collapse and extend this retriever, which is amazing for both storage and grabbing those hard-to-reach discs. You can get a variety of interchangeable heads, having either a hook or a straight option. This is made from stainless steel, which will hold up against extreme weather and prolonged water exposure.
You can retract this pole, which makes it great to store in your disc golf bag or just as an attachment on your belt. Ideally, you'll want something that you have quick access to, in case a sudden wind comes along and blows your disc into a place from which you'll never be able to retrieve it.
Pros:
This is made from very durable steel, so you won't have to worry about your grabber succumbing to rust and other corrosive elements.
This has great portability, coming in a lightweight design that you can collapse into an easily storable size.
This shaft can be extended to upwards of 18 inches, which is very important for grabbing objects from a very high place.
If your disc gets snagged in a tree, then don't worry, as the hook element of this retriever will be able to circumvent those pesky branches to liberate your precious disc – you'll be playing disc golf again in no time!
The hook element at the end is detachable, so if you come armed with a few different attachment heads, then you can tackle whatever the terrain and weather throws at you.
Cons:
The price – this is one of the more expensive units, so you might not want to bother if you are anything less than a casual player.
This next grabber is probably the most luxurious model that we have on our list, with a special powder coating that you can use to retrieve discs from the bottom of a water hazard without it succumbing to rust. This is very easy to operate, with a simple trigger mechanism that will allow your hook to slip over the disc nicely – introducing the Dynamic Discs Disc Golf Golden Retriever.
This has a very efficient tug rope that you can use to simply and easily loop around the disc to retrieve it from pond, lake, stream, mud and tree. It comes with a very sturdy stainless steel skimmer that will be able to withstand a lot of immersion in water for a long period.
The string on this retriever has a massive reach, you can cast it wide out into open water and not have to worry about it sinking or getting snagged on things. The rope itself is very strong, made from Teflon, which is not only water-resistant but will also be resistant to fires too.
Pros:
This comes with very durable Teflon material, making it one of the handiest and most robust retrievers that you can get on this list.
It has a wonderful grabbing head, allowing you to rope in your disc with very little issue.
Having one of these will enable you to keep your clothes clean and dry – the last thing you'll be wanting from a tournament is to get all mucky in the middle of a competition.
This can be compacted so that it is the perfect size to keep in your disc golf bag, which really makes things easy if you want to keep your gear levels low.
This is one of the best retrievers for use in the water, not only is the design perfect for water adaption, but you can be sure that it will not erode or succumb to sun damage.
Cons:
The price – because of the sheer range of features on this retriever, you can be sure that it comes with a very healthy price tag. You should only get this if you are serious about your disc golf game.
This final grabber is slightly left field in that it is not exactly designed for grabbing discs in disc golf, however, it does have some of the basic attributes that you'll need to collect your disc from up in a high tree or from the bottom of a shallow pond. This has a padded grabber that you can easily operate with a simple trigger – introducing the Grabber Reacher Tool for the Elderly.
That's right, this tool is traditionally used by seniors for picking up anything that has fallen on the floor. You can easily adapt this to your disc golf game, with a shaft that you can easily extend and a grabber that is padded and will grip your disc very firmly. This is made from premium material and won't erode after frequent use.
You can wield this one easily outdoors, it is extremely durable and will not sway in the wind. You can also retract this model, so if you need to store it in your bag, then all you have to do is withdraw it and you're good to go. This has an easy-to-use operation, so you won't have to squeeze the trigger too hard.
Pros:
This grabber is perfect for use in your disc golf game, all you have to do is squeeze the trigger and you can be sure of the firm grasp you need to prize it from trees.
This is also probably the best aqua unit on this list – it is fully waterproof and will grab just as easily under the water as it will in the air.
The design – this comes with a fully retractable handle with a smooth trigger. Anyone will be able to use this retriever after just a few goes.
You can store this one pretty much anywhere, as it is very retractable. If you are limited on storage space in your disc golf bag, then all you have to do is clip it onto your belt.
This is made from premium aluminum that won't succumb to any rusting or flaking, you won't have to worry about the functionality at any point.
Cons:
As we have mentioned above, this is not a model that is made for disc golf. If you are looking to play professionally, then this might evoke some sniggers from more serious players.
Buyer's Guide
When it comes to having the right retriever for your needs, there will be a few basic functions that you'll want it to be able to perform. Here are just a few of them:
How Easy Is It To Use?
Ideally, you'll want to be able to have full mastery over your disc grabber in just a few goes. If you are still fumbling around with it after a few days, then you might have something that has a design flaw that makes it unsuitable for disc golf.
How Durable Is It?
Disc golf is primarily an outdoor sport, so you'll want to make sure that it is made from the right materials to resist water, sun and mud damage. Your grabber will have to be waterproof, as retrieving discs from the bottom of a river or stream will be unavoidable.
Frequently Asked Questions
How Long Should The Handle On Your Retriever Be?
We would certainly suggest that your handle extend upwards of 10 inches. Some of the longer models can get up to around 18 inches, which is perfect for retrieving any discs that have flown up into high trees.
You should also make sure that your retriever can retract, as you will need something easy to store. If you do not have enough room in your bag, then you can have something to clip onto your belt. Having a retriever that is easy to grab so that you can grip your disc before it flies away is very important.