Disc golf has been a sport for nearly half a century, and in the past couple of years its popularity has grown rapidly. Unsurprisingly, given its name sake, it is similar to the traditional sport of golf, except it's played with the players throwing a flying disc towards a basket instead of striking a ball towards a hole.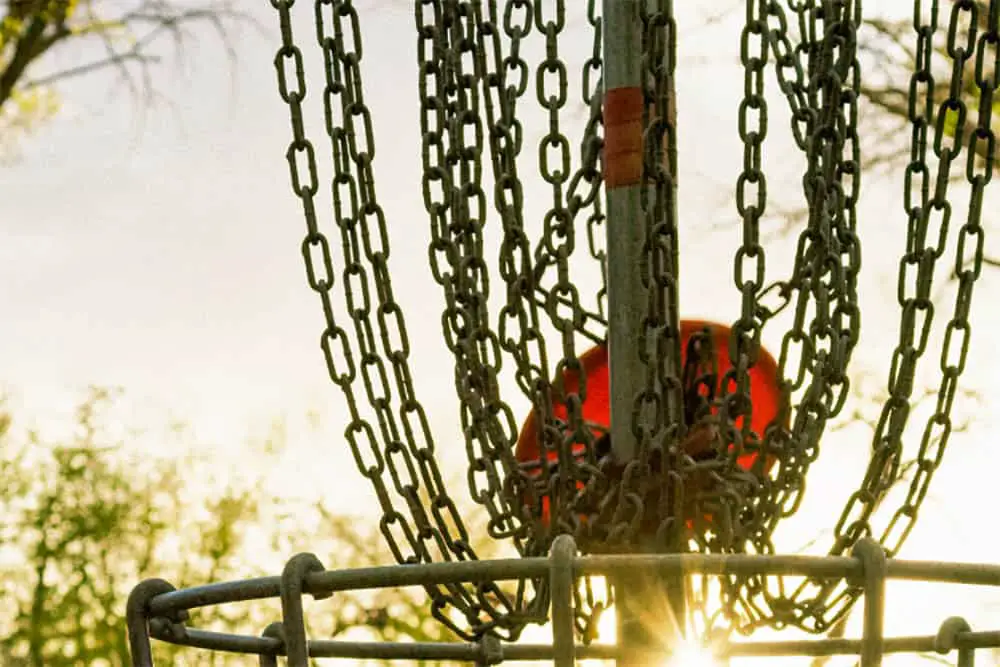 It is a sport that has grown to an international level with competitive tournaments now forming all around the world. Despite its development as a professional sport, disc golf is just as popular and easy to play down the local recreational parks with your friends on the weekend. 
Regardless of what level you're playing to, it is vitally important that you have the best disc golf putter for you. Just like a soccer player needs the best-suited boots to play in, disc golf players need a putter that is perfect for their individual needs.
To put it simply, one of the best ways to improve your disc golf score is to perfect the skill of putting. Countless shots can be saved on the green, perhaps more than anywhere else on the course, so finding the ideal disc golf putter is a priority for both aspiring and professional players. 
However, with so many different types of putter to choose from, picking the best-suited one for your individual needs can become challenging and a little overwhelming. So, to make things easier for you, we've done some of the hard work.
Below you'll find a selection of five of the best disc golf putters on the market. We've also put together a handy buyer's guide to further remove any confusion when selecting the ideal putter for you. 
* Note here, flight ratings are based on the following four characteristics: speed, glide, turn and fade. 
Our Best Disc Golf Putter Reviews
This excellent putter is the most popular in all of disc golf. What sets it apart from most other putters on the market is its ability to be easily thrown for both short-distance putts and long approach shots. The Aviar is versatile in this sense, but amongst its many strengths, its real forte remains putting.
The Innova Aviar, with flight ratings of 2, 3, 0, 1, has impressive glide and will travel the distance with just a simple snap of the wrist. It is also an extremely straight flier with a predictable finish which is a must-have for all serious players. 
Due to its popularity, the Aviar is available in a number of different plastic types. The DX plastic not only has a good quality feel for putting, but it's also affordable. This makes the Aviar a fantastic choice for all players, regardless of what budget they're working to. 
Pros
Performance – professional disc which flies straight and will curve accurately in any direction you want based on the angle of release. 
Material – made from high-quality DX plastic which provides superior grip, suitable in most weather conditions. 
Versatility – can be used effectively for both short-range putts and long approach shots. 
Reputation – most popular putter in disc golf by some distance, so its quality is assured and trusted. 
Cons
Beginners – this disc isn't an ideal choice for beginners due to its advanced performance. 
This putter is another high-quality option, reflected by the fact it was named 2013 Disc of the Year in the Player's Choice Awards. The biggest strength of the Judge is the disc's incredibly predictable flight.
It will fly dead-straight through the air, combining the ability to handle high speeds without any significant fade. The flight ratings of the Judge are 2, 4, 0, 1, which further underline its reliable and predictable flight. 
The Judge is considered a putter, not a putt and approach disc like the Innova Aviar. While it can still be used for approaches and short tee shots, the Judge is specifically designed for putting. Dynamic have also made the disc beginner-friendly due to its forgiving nature out on the course. 
Pros
Quality – reliable and predictable flight with good stability to fight off winds, and high glide to be thrown off of the tee pad. 
Grip – prime plastic provides an excellent grip and feel even with weather that compromises your hold on the disc. 
Suitability – disc is one of the most popular putters in disc golf, but well-suited for beginners due to its forgiving nature. 
Price – very affordable for those working to a tight budget. 
Cons
Color – many customers have reported receiving the wrong color disc after ordering.
This disc is labelled as a 'mid-range putter', and has impressive flight ratings of 4, 3, 0, 3. Most putters are termed as putt and approach discs, but the Harp can provide you with a dual purpose in that it flies extremely well if thrown as just a mid-range. 
For professional players, the Harp can be the only approach disc you'll need to carry as it can hold anyone's arm speed. Conversely, for players with slower arm speeds, it will be your most overstable and dependable approach disc.
All in all, the Harp is a well-rounded option for most players, with it flying fairly well off the tee on short drives too. Its versatility and quality will help any disc golfer improve their approach game. 
Pros
Versatility – useful disc to have in any players bag, suitable for putting, approaches, mid-range and short-tee drives. 
Reliability – designed to hold in the wind for a predictable flight you can rely on. 
Overstable – can be counted on for an overstable finish, irrespective of arm speed. 
Material – VIP plastic is super-durable with high performance, suitable for both recreational and professional players. 
Cons
Stamp color – the disc comes with a stamp color which will vary, leaving some customers happier than others. 
This disc prides itself on delivering consistency and confidence with every throw. If you're looking for a putter that won't turn over when you're throwing long approaches, then this could well be your best option.
The Groove Top (GT) can be felt as you tuck your thumb into the putter, with the feature allowing you to consistently deliver high-quality releases. 
This putter from Discraft provides excellent performance for forehand and backhand shots. It is also overstable, making the disc tolerant to headwinds. This is particularly useful for players who putt on a hyzer. 
The material of the Jawbreaker plastic is durable and tacky, which is well-suited for disc golf putters and approach discs. The feel provides a superior grip and some useful glide, ideal for putting.
The plastic is also aesthetically pleasing on the eye with a marble texture, as well as coming in a variety of pastel colors. 
Pros
Consistency – disc delivers consistent releases due in part to the Groove Top which facilitates this. 
Comfort – designed to offer comfort and feel soft, but secure in hand. 
Color choice – disc comes in a variety of different pastel colors. 
Material – durable and super tacky plastic offers medium stiffness, perfect for both approach and putter discs. 
Cons
Availability – the availability of different weights and colors can often be a problem for this disc. 
The final putter on this list and the second offering from Dynamic Discs is the Warden putter. It shares many similarities in its design to the Judge, although it's beadless. With flight ratings of 2, 4, 0, 0.5, it's a little less stable and not quite as good as an off-the-tee putter as the Judge. 
With the design of the Warden being smooth and steady, putting feels great. The disc features a smooth release and neutral flight, meaning the Warden will come out of your hand easily and fly perfectly straight to the basket. 
The Warden has a fantastic reputation in disc golf, with many touring professionals using it as their featured putter. It provides perfect glide – reflected by its 4.0 rating – for putts both inside and outside the circle. Therefore, the Warden is a staple in many disc golf bags around the world. 
Pros
Comfort – putter is beadless, which feels great in hand and offers an extremely smooth release. 
Glide –  high levels of glide allow the disc to stay in the air for longer. 
Grip – even in unfavorable weather conditions, the disc provides excellent feel and unaffected grip. 
Cons
Stability – while its stability is nothing to worry about, it's not quite as good in this department as other putters on the list. 
Best Disc Golf Putter Buyer's Guide
When it comes to finding the best-suited disc golf putter for your individual needs, there are a few things that you should take into consideration to ensure you get the correct product.
Below, we'll take a look at some of the most important areas to focus on when making your selection. Giving a little extra thought to these will help steer you towards the perfect option, saving you both time and effort in the long run. 
Weight
This is one of the most influential factors to take into account when making your selection and shouldn't be overlooked. As a general rule, heavier putters are well-suited for just about all skill levels.
This isn't the case when it comes to drivers, with lightweight discs usually best for inexperienced players.
When analysing the varying weights of different putters on the market, also consider the conditions you'll likely be playing in. Quite often there'll be rain and wind.
Therefore, it's worth noting that lightweight putters are much less stable and efficient when a strong gust of wind hits.
On the other hand, heavy putters can tolerate significant breezes without changing course. Lightweight putters are also more liable to turn right, while heavier putters maintain a straight line, or slightly fade to the ride for right-handed disc golfers.
If you're looking for suitably-weighted disc golf putters for children, lightweight putters are widely recommended, solely for safety reasons. Kids, especially super-young ones, aren't known for their course etiquette and patience when waiting for their turn to throw.
So, if worse comes to worst, and someone gets clattered in the back of the head, it is much less painful and dangerous if this is with a lightweight 130g putter rather than a heavier 175g putter. 
Plastic
Another important consideration is the type of plastic used when molding different putters. This can affect the weight, grip and durability of the disc. There are four main types of plastic used to make putters: basic plastic, middle grade plastic, ultra-durable plastic and premium plastic. 
Basic plastic putters are the cheapest of the lot and offer good levels of grip. Their low cost also allows you to buy multiple discs to improve your backyard practice sessions. However, the performance of these putters tends to change over time due to the ease in which they can pick up nicks and scratches.
Middle grade plastic putters use similar materials to basic plastic, but add some premium additives. These provide the putters with enhanced dip and durability.
The cost of middle grade plastic putters is a little higher and they are a popular choice among intermediate disc golfers. 
Ultra-durable plastic putters are again more expensive than the previous two types. However, these durable blends are smoother and harder, and don't bow down under abuse.
It's worth noting that putters in a durable grade don't grip quite as well to the chains of the basket as those in the middle grade. 
Finally, putters made from premium plastic offer the complete package. Whether you prioritize performance, grip or durability, you'll be covered.
Understandably, they are the most expensive putters on the market, and because of this, not generally as popular as some of the cheaper mid grade and ultra-durable offerings. 
Flight rating
Initially devised by Innova, and now used by many other brands, the flight path rating system analyzes the performance of disc golf putters. While these ratings aren't a guarantee that the putters will perform exactly as stated, they provide a strong indication of what they're capable of. The rest is all down to the player's skill and technique. 
The flight path is broken down into four distinct categories: speed, glide, turn and fade. Speed measures how fast you'll need to throw the putter for it to perform to its maximal capacity.
Most putters usually have a speed rating from one to three. Glide refers to how long a putter can stay in the air, with a higher rating typically signifying a longer distance.
Putters with a rating of three or above are generally considered good quality. Turn measures the amount the disc curves after release, with most putters falling between a rating of -3 to one.
Finally, fade refers to how the putter performs at the end of its flight when it's at its slowest. The fade ratings of putters will range from zero to three. 
Price 
There isn't too much between the prices of different disc golf putters on the market. At the top end, you'll find premium plastic putters which should last you for many years so could be seen by many as a worthwhile investment.
At the other end of the scale, basic plastic putters are significantly cheaper and still perform a reasonably efficient job. These however, are designed to be more mass market and don't have the same lifespan. 
Frequently Asked Questions
What are disc golf putters? 
In disc golf, there are four main discs: distance drivers, fairway drivers, midranges and putters. Putters are the discs with the thinnest of rims, designed to fly for short distances on a straight line.
They are also the slowest spinning discs which mean they don't have the potential to go off the line or fly beyond the basket. This makes it easier for players to score, as well develop their short game. 
What is the best weight for a disc golf putter? 
The appropriate weight classes for putters which most players typically use are 170-172 grams and 173-175 grams. Heavier discs in general are more reliable as they have greater stability and are less sensitive to the wind.
They also land into the chains of a disc golf basket better. On the other hand, light putters are well-suited for young players and beginners. 
Do you need more than one disc golf putter? 
This all depends on the level you're playing at and whether you're competing or just playing for fun. If you're playing casually with your friends, one putter will be enough. In fact, many people play rounds of disc golf with just one disc. 
If however, you're more serious about disc golf and play competitively in tournaments, it is recommended that you have at least one putter for putting, and then another for approach shots.
It's also worth noting that if you want to maximize your practice putting, you should look to invest in identical multiples of your chosen putting putter.