OK, I'm just going to level with you here – if you don't use the right equipment in disc golf, it could seriously affect your overall score at the end of the game.
A male intermediate level player should be able to throw their driver disc between 250 and 350 feet. For a female intermediate player, this distance should be between 125 and 200 feet.
And while it's possible for a mid-range disc to reach these distances, it's not ideal. And as for putters, you'd have to be really lucky and talented to get the disc to travel to 200 feet.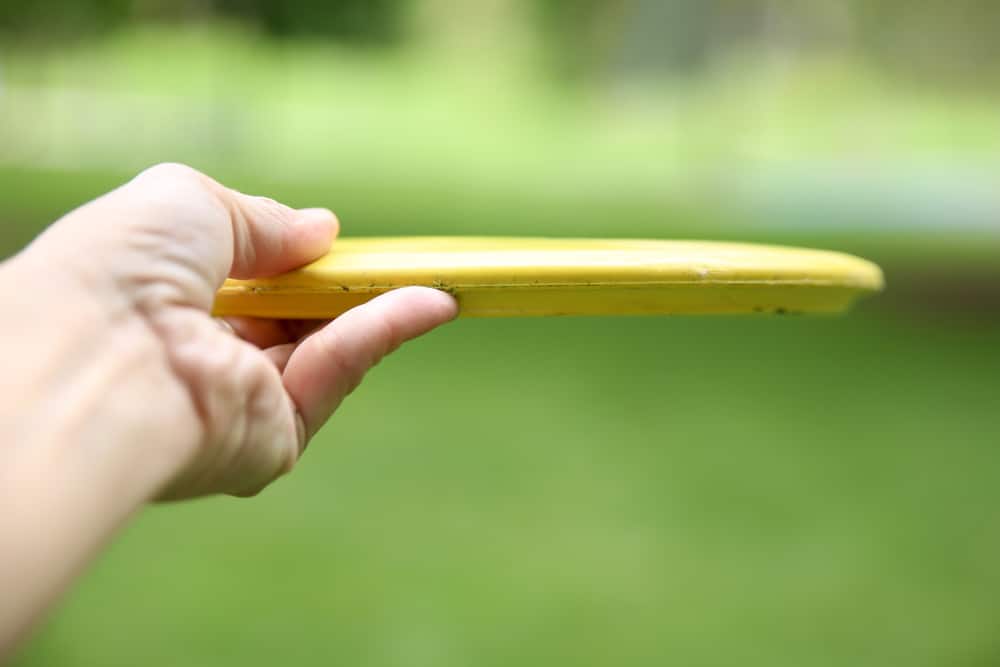 The solution, then, is to ensure that you get the right type of disc for each shot, one that's meant for the job at hand.
The good news is that we've been checking out some of the best disc golf distance drivers on the market, and after much deliberation, we were able to handpick our top few favorites for our shortlist. We'll be reviewing them for you very shortly.
But for the uninitiated, we know how tricky it can be to buy disc golf equipment if you don't know the basics, which is why we've also put together a brief buying guide, so you know what to look for when you buy.
Then we're going to top that off with another handy section where we tackle some of your most frequently asked questions on the subject.
And, without further ado…
Best Disc Golf Distance Driver
Talk about flying off the shelves!
There has been over 1,400 sales of this disc through Amazon alone – and that's just going from the number of customers who left a rating. And, better yet, the average customer rating still comes out at an impressive 4 and a half stars out of 5.
What makes this disc such a good driver disc is how for intermediate ability players, the disc will fly remarkably straight, as though it has already been worn-in and will hit that sweet spot you're looking for.
It flies at a high speed of 9, and its stability lies between stable and understable, which means that it has a slightly more high speed turn and a diminished fade.
It's a great distance driver for intermediate players, and more high-powered throwers will be able to use it for precise flip and turnover lines.
What really makes this distance driver different, though, has to be the way that it has a lighter inner rim, that allows its weight to be shifted outward for unprecedented focus at the outer rim.
To learn more about the science behind the disc's flight, you should totally check out the photos on the product page! You can get to the product page by clicking on "Check price".
One of the features of this disc is that it is transparent, so whatever candy colored disc you receive when the box arrives, you will always be able to differentiate it from all of your other discs. 
But, don't let its transparent appearance fool you into thinking it's flimsy. This disc is made with premium proton plastic, and is designed to be able to withstand the roughest of conditions.
The disc is available in a choice of different weights, and these are as follows:
155 to 160 grams
160 to 165 grams
165 to 170 grams
170 to 175 grams
The lower the weight of your disc, the further it will be able to travel with the same amount of force.
The Proton Insanity disc is PDGA approved, which means that you can use it in tournaments.
And it happens to be available at a very favorable price to boot. Moreover, the price is unaffected by which disc you buy.
Pros
Bestseller with online retailers
Choice of different disc weights
More turn than other driver discs
Easily identifiable transparent disc
PDGA approved for professional play
Cons
You don't get to choose the color
Best for players with intermediate or expert level of ability, not as good for beginners
When we saw the customer ratings on this beauty, we just had to see what all the fuss was about. And we weren't disappointed.
After well over 200 individual customer ratings on Amazon, the average customer rating still comes out at an impressive 5 stars out of 5.
It also happens to be the winner of the title Amazon's Choice in the category of disc golf distance drivers. Such titles are only given to products that are both of excellent quality and are available at a good and reasonable price.
It's a best-seller with the leading online retailers, and comes from one of the top brands in the industry, Dynamic Discs.  
What makes it such a good driver to achieve maximum distance on your first shot, is its very high speed, coming in at 14, and it's low turn, which is zero. And it's also good for navigating tight fairways too. 
Its stability lies between stable and overstable, which means that you get reliable straight shots, with a little fade to the left at the end.
The other thing we love about the  Latitude 64 Opto Ballista Pro is how it's made out of premium, durable plastic and is able to withstand extreme punishment.
We also love how you can actually choose what color you want it to be in. And this is excellent for making it easily distinguishable from other discs in your set. The available color choices are blue, orange, pink, red, and white.
Pros
Bestseller with superb customer ratings
Winner of the title of Amazon's Choice
Great distance thanks to high speed
Made out of premium, durable plastic
Choice of 5 different color options
Cons
Because it's slightly overstable, we don't recommend this disc for newcomers to the game
Now, here's another distance driver disc that's very easily identifiable – it's colored and patterned in such a way that it's very reminiscent of the American flag, so it's a great choice for the patriotic amongst you. (Though it doesn't actually feature stars and stripes, sadly. There's not really enough room for all those stars and stripes on just one disc.) Easy to distinguish amongst all of your other discs.
It comes from one of the very best brands in the industry, Dynamic Discs, no less. It's a best-seller with the leading online retailers, and has been met with excellent customer feedback, earning an average Amazon customer rating of 4and a half stars out of 5.
It also happens to be one of the discs used by the United States Women's Disc Golf Champion, Kristen Tattar in 2019. And the year previous, Explorer voted it the Disc of the Year.
Its popularity comes from its very straight flight path and controlled glide. It also flies at a  remarkably high speed, coming in at 14.
Suitable for various levels of ability, this very stable disc can help less experienced players produce a reliable flight path that they can count on. And for more experienced players, you can get some super long distances on those tight fairways.
It's made to last, too, composed of one of the most durable plastics in the world, able to withstand severe punishment and conditions.
The only real drawback comes from the discs' price. It's noticeably more expensive than most other discs out there, thanks to its special artwork.
Pros
American flag like appearance
Award winner used by champions
Flies at the high speed of 14 units 
Straight flight path & controlled glide
Made of particularly durable plastic
Cons
Premium product at a premium price
Here's yet another best-selling distance driver with excellent customer ratings – no less than 4 stars out of 5 on Amazon after well over 1,300 individual customer ratings.
And it's no surprise as to why. Not only does it come from one of the very best brands in the industry, but it actually holds the World Distance Record at 820 feet! So if you're looking to reach the maximum distance that you can, you're not going to find a disc more able to achieve that than this one.
It has a high speed, coming in at 9, a turn of -2, a fade of 2, and a glide of 4. This means that it will be remarkably straight for you, and makes for an excellent disc to use as your first distance driver. And with its great glide, it also makes for an excellent driver for use in tailwind drives.
Although you don't get to choose which color of disc you will receive, the disc is emblazoned with a picture of a Valkyrie, a warrior woman with wings, which will be very easily identifiable amongst all your other discs.
It's available in a selection of 6 different weight options, starting particularly light at just 145-150 grams, and going up to 173-175 grams. The lighter the option you choose, the more it will travel with the same force.
Pros
Holds a World Distance Record!
It's also great for tailwind drives
Bestseller with excellent ratings
The disc is easily identifiable
Available in a choice of weights
Cons
You have no way of knowing what color disc you will receive
When we saw the customer ratings on this little beauty, we just had to see what all the fuss was about – and we weren't disappointed!
On Amazon, the Wraith distance driver has managed to earn an average customer rating of full 5 stars out of 5 – even after well over 250 individual customer ratings. And believe me, that's no mean feat.
It's a very stable flyer, which means it's flight will be very predictable, and will fly as straight as you can wish for. And it flies at a very high speed, coming in at 11, with a great glide, which comes in at 5.
This means that it will travel a long distance for you, and with excellent control too. It's great for tailwind drives and long hyzers.
It's suited for both beginners and pros alike, and the predictable flight path makes it an excellent choice for those looking for consistency so that they can improve on their game play.
It's kind of a little expensive if you ask us, but when you buy from a top brand like Innova, you know you're getting top quality, and plenty of bang for your buck.
Pros
Bestseller with excellent ratings
Travels a long distance at speed
Very stable for predictable flight path
Offers excellent control over flight
Well suited to all levels of ability
Cons
You don't have a choice of disc weight 
Although the product page lets you select either blue or orange, the product page also stipulates that colors may vary
Buying Guide
As promised, here's your buying guide. Here are the key things to think about when choosing a disc golf distance driver.
What exactly is a distance driver?
As you might assume from the name, a distance driver is one that has the potential to travel a great distance. They need to be thrown at great speed to travel to their intended flight characteristics.
Distance drivers are different from fairway drivers in that they have wider rims and sharper noses. But because distance drivers are designed to travel at great speed, they can be a little trickier to control compared to fairway drivers.
Brand
Despite disc golf being such a niche sport, there are already some really great brands of equipment out there, and we were sure to include several drivers from these brands in our shortlist of our top 5 picks. These brands include the likes of Dynamic Discs and Innova.
Ability Level
Thankfully, some brands of disc golf discs have drivers designed for players of different levels of ability. And this is great news for beginners, intermediates, and pros alike.
But interestingly, you can also get ones that are suited for multiple levels of ability, which means that you can buy them when you're still a beginner, and they will still prove useful to you as you improve your game.
Speed and Stability of the Disc
The stability of a disc is its tendency to turn over to the right, fade to the left, or fly straight, during the beginning of flight for right-hand backhand throws.
Stable discs will usually fly straight when released flat. Understable discs will turn over to the right when released flat. And overstable discs will usually fade more to the left at the beginning of flight when released flat.
Discs that have a moderate amount of high speed turn are stable, while Discs that have a lot of high speed turn are under stable, and discs that resist turning right even at high speeds are over stable.
In most circumstances, you'd want a stable disc for your distance driver, so you get a nice straight flight, but this can differ according to your level of ability. Beginners should avoid over stable drivers.
Color
Please, don't be tempted to get all of your disc golf discs in your favorite color. When you select your next disc from your disc golf bag, you want to be able to quickly identify which one you need next. And that means having different discs in different colors.
If all of your discs are in very similar colors, it can be hard to suss out which one is which, but having them in different colors solves that problem for you. You don't want to have to be squinting at the labels or putting on reading glasses right in the middle of a game.
Value for Money
I'm just going to tell it like it is. A cheap disc golf distance driver is rarely "good value for money". Crafting a good quality distance driver takes real craftsmanship, and the cheaper options won't produce the best results.
If budget is a concern for you, however, feel free to check the prices as you go along, so you know what to expect when buying a top quality driver disc.
But, to give you an idea of distance driver prices, they can range from as little as $8.99, up to about $43 in some instances.
Customer Ratings & Reviews
When you're shopping for something online, why not take advantage of the opportunity to look at customer ratings, and a few customer reviews? You know it's going to be a good quality product when Amazon customers rate it at least 4 stars out of 5.
Frequently Asked Questions
What is the best disc golf distance driver?
Our favorite disc golf driver has to be our number one pick, the Axiom Discs Proton Insanity Disc Golf Driver. It's an incredibly popular choice of distance driver, and for good reason too. For the intermediate level player it will fly particularly straight, and is perfect for getting that long distance for your first shot, and other fairway shots besides.